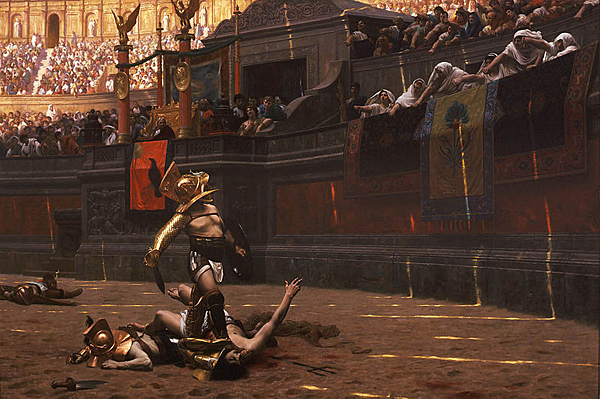 Gladiator world
Nov. 10: Harvard prof to lecture on gladiators
11:42 a.m., Nov. 1, 2011--Gladiatorial combat was staged all over the Roman Empire, yet gladiatorial spectacles occupied an ambiguous position in Roman society. Gladiators were despised as slaves, or their equivalent, but still had a great personal following. Despite the legal stigma attached to their profession, their tombstones proudly boast of it.
The Romans also were extraordinarily sentimental about their domestic pets, and yet they killed animals wholesale in the arena. And although pagan philosophers and the early Christians thought that watching the games ruffled a person's spiritual calm, they scarcely objected to what looks to us like the cruelty inherent in these spectacles.
June 5: Blue Hen 5K
University of Delaware graduates planning to attend Alumni Weekend are encouraged to register for the annual Blue Hen 5K walk and run, which will be held Sunday morning, June 5.
June 6-9: Food and culture series
The 20th annual June Lecture Series at the Osher Lifelong Learning Institute at UD in Wilmington will be held June 6-9. Titled 'June a la Carte,' this year's program focuses on great political documents, feminism, world politics and a Newark cuisine sampler.
On Thursday, Nov. 10, at 7:30 p.m., in the University of Delaware's Trabant University Center Theatre, Kathleen M. Coleman, James Loeb Professor of Classics at Harvard University, will present "The Virtues of Violence: Amphitheaters, Gladiators and the Roman System of Values." The presentation, which is free and open to the public, is part of the Distinguished Scholars Lecture Series of UD's Department of Foreign Languages and Literatures.
Drawing on mosaics, epitaphs, monumental remains and other types of evidence, Coleman will identify the values and counter-values that accommodated what seems to us to be such an uncivilized practice.
About Prof. Coleman
Kathleen M. Coleman was born and raised in Zimbabwe. Before joining the Harvard faculty in 1998, she taught at the University of Cape Town and held the chair of Latin at Trinity College, Dublin. 
Among her many accomplishments, she has been a fellow of the Alexander von Humboldt-Stiftung, a Harvard College Professor appointee -- a five-year appointment in recognition of contributions to teaching -- and the recipient of the Walter Channing Cabot Fellowship, an annual award given to Harvard faculty members in recognition of achievements in literature, history or art. 
She is the editor of Harvard Studies in Classical Philology (Vols. 105–106) and co-editor of Oxford Approaches to Classical Literature, a series published by Oxford University Press. 
She is the American delegate to the Internationale Thesaurus-Kommission in Munich, Germany, and president of the American Philological Association.
The Trabant Theatre is located in UD's Trabant University Center at 17 West Main Street in Newark. For directions, see this map.
A reception will follow the lecture.