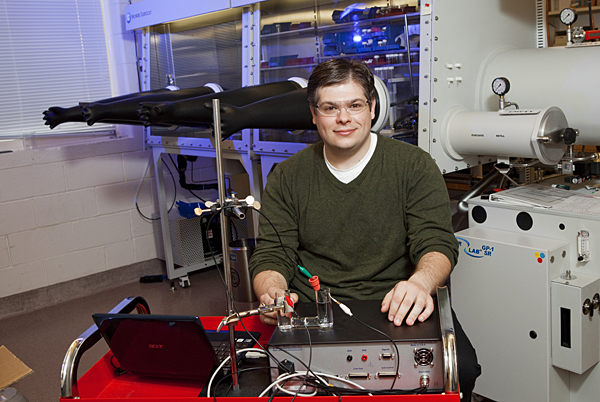 Dec. 7: Prof to speak in 'Scholar and Library Series'
Joel Rosenthal to discuss his research, energy challenges facing society
6:29 p.m., Nov. 11, 2011--Joel Rosenthal, assistant professor of chemistry and biochemistry, will be the next speaker in the University of Delaware Assembly of Professional Staff (UDLAPS) "Scholar and the Library Series."
He will discuss "Converting Greenhouse Gas and Sunlight to Renewable Fuels: Chemistry's Role in Addressing the Looming Energy Crisis" at noon, Wednesday, Dec. 7, in the Class of 1941 Lecture Room in the Morris Library. The brown-bag luncheon program with light refreshments is open to the public. 
June 5: Blue Hen 5K
University of Delaware graduates planning to attend Alumni Weekend are encouraged to register for the annual Blue Hen 5K walk and run, which will be held Sunday morning, June 5.
June 6-9: Food and culture series
The 20th annual June Lecture Series at the Osher Lifelong Learning Institute at UD in Wilmington will be held June 6-9. Titled 'June a la Carte,' this year's program focuses on great political documents, feminism, world politics and a Newark cuisine sampler.
Current concerns over greenhouse gas (GHG) emissions and climate change highlight the need for renewable energy generation on a global scale. In the future, the sun will need to assume a predominate role in sustainable energy production, however, cost-effective energy storage is needed for solar to be harnessed as society's primary energy source. Chemical fuels are one potential sustainable solution to energy storage, and carbon-based fuels such as gasoline provide optimal energy densities. 
Accordingly, a major challenge in renewable energy research that chemists in particular are poised to tackle is the development of catalysts for applications in molecular energy conversion. Rosenthal's lab is designing systems capable of harnessing renewable energy inputs including sunlight, to drive the conversion of stable molecules such as carbon dioxide to hydrocarbons and/or fuel precursors. In constructing these new platforms, they are also developing a keen appreciation for the chemical principles, which govern efficient energy storage processes. 
His work will be discussed within the context of the emerging energy challenges that face society by illustrating the role of chemistry in driving renewable fuel production.