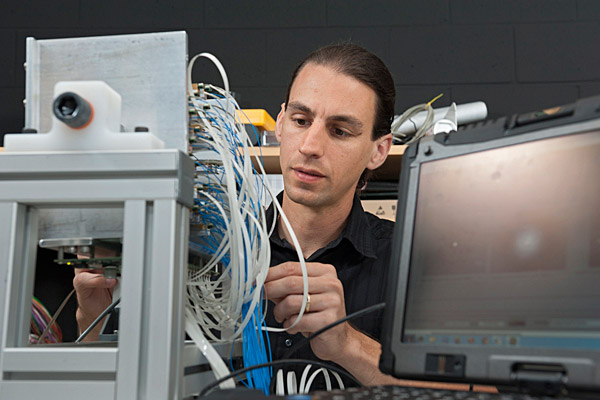 Electronic battlefield
Scientist awarded grant to improve electronic receivers used for military applications
9:48 a.m., May 23, 2012--According to the University of Delaware's Christopher Schuetz, the modern electronic battlefield is getting crowded.
The crowding, he says, is the result of an increasingly diverse set of threats over an expanding range of frequencies. This expansion has placed additional demands on modern electronic warfare (EW) receivers and sensors used to identify and classify these threats.
National Medal of Science
President Barack Obama recently presented the National Medal of Science to University of Delaware alumnus Rakesh Jain.
Warren Award
Rosalind Johnson, assistant dean for student success in the NUCLEUS Program in UD's College of Arts and Sciences, was presented the John Warren Excellence in Leadership and Service Award during a May 26 ceremony.
As missions become more challenging, the military must keep pace with systems that can perform tasks cost efficiently and with less size, weight and power. That's where Schuetz comes in.
"The military's next generation of aircraft are migrating to small, unmanned vehicles that cannot accommodate the same weights and payloads they have in the past," he says, "which is necessitating integrated systems that are increasingly capable of performing multiple functions within the same platform."
Schuetz, a research assistant professor in electrical and computer engineering, was recently awarded a 2012 Air Force Young Investigator grant from the Department of Defense to develop advanced optical techniques that will enable next generation electronic warfare devices for military applications. The award will provide Schuetz $120,000 in annual research funding over three years.
One of only 48 scientists and engineers selected nationwide, Schuetz proposes a new approach that collects radiofrequency radiation (RF) signals and converts them into optical signals which use light to transmit information. The benefit, he says, is the ability to process and route signals using lightweight fiber optics and optical lenses. 
Fiber optics are flexible, transparent fibers made from strands of glass that are thinner than a human hair. Durable and lightweight, they reliably transmit across great distances. 
"People don't generally appreciate that when they make a phone call with their cell phone or watch a movie on Netflix, that data is traveling across an optical fiber, a piece of glass, that is only about 100 microns thick but has incredible information carrying capacity," he says.
Building on his graduate work performed at UD, Schuetz has already developed an imaging system that can visualize radiation emitted from a source, similar to how an infrared camera sees in the dark. The difference is that Schuetz' imaging technology can spot objects through varying conditions including cloud, fog, sand, clothing, etc., making it useful for detecting items that emit radiation like cell phones and radar systems, which are of particular interest for the military.
The system works by converting the energy from RF systems that operate at a scale of centimeters to optical wavelengths that function on the nanoscale. He believes the work will enable a new class of optically-enabled EW receivers that can simultaneously receive, analyze and respond to information in real-time, potentially providing the military an advantage in the battlefield.
"The ability to locate threats and to avoid or work around them is critical to military success in combat," says Schuetz. 
Additionally, he says the work could also result in new technologies to improve standoff detection equipment such as the full body scanners found in airports by enabling the scanners to work at distances rather than only up-close. For example, building it into the infrastructure along an airport corridor or in the hallways of a building could eliminate the need for individual scanning.
"It might even be embedded in artwork hung on a wall," says Schuetz.
About the Young Investigator program
Open to scientists and engineers at research institutions nationwide, the Air Force Office of Scientific Research (AFOSR) young investigator program aims to foster creative research, enhance early career development of outstanding young researchers and increase researcher understanding of the scientific and technological challenges faced by the Air Force. 
About the researcher
Christopher A Schuetz joined UD's Department of Electrical and Computer Engineering as a research assistant professor in 2012. He has more than a decade of experience in optics and radio frequency technologies, particularly in the areas of millimeter-wave detection and imaging, polymer waveguide technology and analog photonic links and processing.
Schuetz previously worked as a development engineer and technology director for Optical CrossLinks, Inc. and as a photonics engineer for BAE Systems, both in Pennsylvania.
A UD alumnus, Schuetz earned his master's and doctoral degrees in electrical engineering at UD in 2005 and 2007 respectively. He received his bachelor's degree in electrical engineering with a minor in physics from Virginia Tech in 1997.
Article by Karen B. Roberts
Photo by Evan Krape