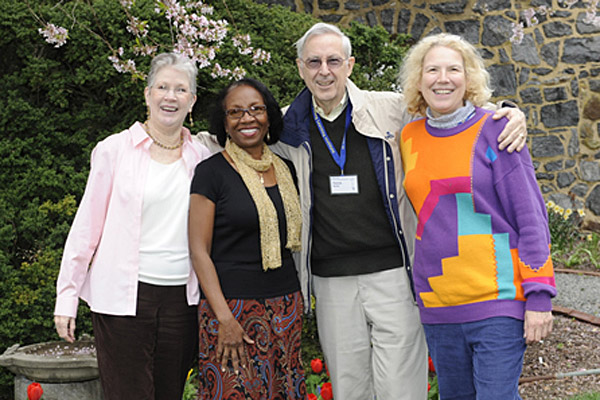 June 4-8: Wilmington lectures
Osher Lifelong Learning Institute offers morning lecture series
2:28 p.m., May 21, 2012--The community is invited to spend a week in June learning from and enjoying some of the region's most fascinating people through a morning lecture program at the Osher Lifelong Learning Institute at the University of Delaware in Wilmington.
Highlights of the 16th annual June lecture series include a talk by author and counterterrorism expert Ray Holcomb and a presentation by the Rev. Lawrence Livingstone on the founding of African Union Methodism in Wilmington. The week concludes with a presentation and performance on the life and music of contemporary American and Russian composers presented by the Music School of Delaware.
June 5: Blue Hen 5K
University of Delaware graduates planning to attend Alumni Weekend are encouraged to register for the annual Blue Hen 5K walk and run, which will be held Sunday morning, June 5.
June 6-9: Food and culture series
The 20th annual June Lecture Series at the Osher Lifelong Learning Institute at UD in Wilmington will be held June 6-9. Titled 'June a la Carte,' this year's program focuses on great political documents, feminism, world politics and a Newark cuisine sampler.
The week-long program takes place Monday through Friday, June 4-8, at Arsht Hall on the University's Wilmington campus, 2700 Pennsylvania Avenue. Topics and speakers are:
"On Becoming the Emperor of Fun and Games"―Dave Raymond, Raymond Entertainment Group (and the original Phillie Phanatic);
"Walking (Musically) in Someone Else's Shoes"―World music performed by String Theory, Osher Lifelong Learning Institute, Wilmington;
"High Drama in Newark"―Leslie Reidel, professor, Professional Theatre Training Program, Department of Theatre, University of Delaware;
"Delmarva's Unique Collection of American Art"―Ryan Grover, curator, Sewell C. Biggs Museum of American Art, Dover;
"Exploring Trade and Culture of the Ancients"―Steven Sidebotham, archeologist and professor, Department of History, University of Delaware;
"August Quarterly: Celebrating the Founding of African Union Methodism in Wilmington"―Rev. Lawrence M. Livingston, senior pastor, Mother African Union Church, Wilmington;
"A Life Defined by Historic Moments"―General Carol A. Timmons, Delaware Air National Guard;
"Endless Enemies: Inside FBI Counterterrorism"―Ray Holcomb, author and retired FBI agent; 
"The Art of Baltimore's Amalie Rothschild"―J. Susan Isaacs, professor of art history, Towson University; and
"The Artist and His Surroundings: Contemporary American and Russian Composers"―Holly Roadfeldt-O'Riordan, pianist and faculty with distinction, Music School of Delaware
Each day will feature two lectures, the first one beginning at 9:15 a.m. and the second at 11 a.m.  Doors will open at 8:45 a.m. each morning. The registration fee for the full 10-lecture series is $50 per person; light refreshments are included. Registration is open to everyone. For more information or to register, contact Ellen Saienni, Osher Lifelong Learning office, at 302-573-4415.
Osher Lifelong Learning in Wilmington is also holding a summer session July 10-August 2, with nearly 50 courses being offered. View the catalog online. Gift certificates may be purchased.
The Osher Lifelong Learning Institute in Wilmington is a membership organization that provides opportunities for adults 50 and over to learn, teach and travel with their peers. The only requirements for admission are interest in a continuing educational experience, support of the programs through participation, and a modest membership fee. Courses meet weekdays at Arsht Hall on the Wilmington campus. Ample free parking is available.
Photo by Dick Burgess