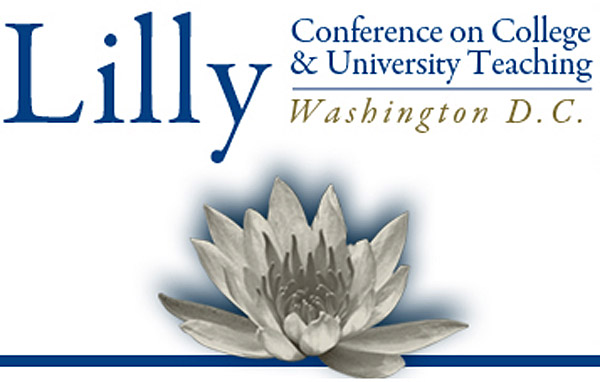 Focus on teaching
10 doctoral students win travel fellowships to attend Lilly conference
9:43 a.m., May 14, 2012--Ten University of Delaware doctoral students have been awarded competitive travel grants to attend the annual Lilly Conference on College and University Teaching and Learning in Bethesda, Md., May 31-June 3.
The conference brings together faculty from a multitude of disciplines and at various stages of their academic careers to share new advances in learning, teaching and assessment. The travel fellowships are co-sponsored by UD's Center for Teaching and Assessment of Learning and the Office of Graduate and Professional Education as part of their efforts to provide professional development opportunities for doctoral students pursuing faculty careers.
National Medal of Science
President Barack Obama recently presented the National Medal of Science to University of Delaware alumnus Rakesh Jain.
Warren Award
Rosalind Johnson, assistant dean for student success in the NUCLEUS Program in UD's College of Arts and Sciences, was presented the John Warren Excellence in Leadership and Service Award during a May 26 ceremony.
This year's travel award recipients include Erin Baugher, political science and international relations; Laura Black, civil and environmental engineering; Serkan Bulut, political science and international relations; Kirsten Hirneisen, animal and food sciences; Annalee Kodman, education; Jared Larson, political science and international relations; Zofia Maka, political science and international relations; Susanna Molitoris Miller, education; Nicole Smolter, sociology and criminal justice; and Stephanie Stotts, geography.
The conference affords doctoral students the opportunity to learn about the scholarship of teaching and to network with faculty from different types of institutions. 
"Being able to attend the Lilly Conference will allow me to learn about the art of teaching, develop my pedagogy and prepare me for a career in academia," Hirneisen said.
Research-based, hands-on sessions offer attendees the chance to learn about specific teaching strategies. "I am looking forward to participating in several sessions where I can learn about alternatives to lecture-style teaching and get a better idea of how to tailor course materials to match student's learning styles," noted Zofia Maka.
As part of the conference, travel award recipients are expected to share what they have learned with the larger university community.  Annalee Kodman said, "I intend to present about my experience at the School of Education's colloquium series in the fall for new graduate students who will teach in the department." 
Other award recipients will serve as TA Conference Fellows and facilitate sessions using what they have learned at UD's annual Graduate TA Conference set for Aug. 21 or facilitate sessions for graduate TAs in the fall.