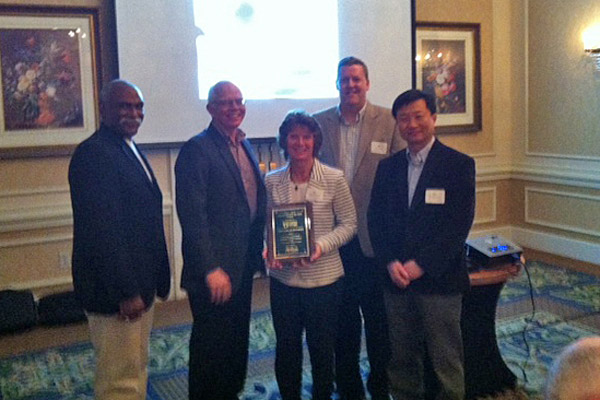 APICS award
UD's operations management area receives accolades
7:45 a.m., May 22, 2012--The APICS (Advancing Productivity, Innovation and Competitive Success) Brandywine Valley Chapter of the Association for Operations Management has selected the operations management (OM) area in the University of Delaware's Department of Business Administration as company of the year.
The honor is in recognition of the OM area's active and ongoing support of the association, the Brandywine chapter and the UD student chapter.
National Medal of Science
President Barack Obama recently presented the National Medal of Science to University of Delaware alumnus Rakesh Jain.
Warren Award
Rosalind Johnson, assistant dean for student success in the NUCLEUS Program in UD's College of Arts and Sciences, was presented the John Warren Excellence in Leadership and Service Award during a May 26 ceremony.
"This is an extraordinary honor for the OM area, and the department sincerely thanks the Association for Operations Management for their recognition," said Tom Becker, chair of the Department of Business Administration. "We're extremely fortunate to have Lori Eagle and our other colleagues at APICS supporting our students and working with our faculty. We look forward to continued collaboration in promoting the science and practice of operations management."
According to Eagle, representative of the Brandywine Chapter, this is the first time an educational institution has received the honor. Recent winners include DuPont in 2011 and AstraZeneca in 2010.
Eagle also said APICS recognized the area's work outside of association and chapter support.
"We all know that UD professors are creating top notch future operations professionals and the students are graduating knowing that APICS is there for their professional growth and networking opportunities throughout their career," said Eagle.
Eagle also commended Derek Skrainar and Cody Rubinstein, OM students, for their accomplishments both personally and for the student chapter.
The OM area was recognized publicly at the chapter's professional development meeting earlier this month and received a plaque signifying the accomplishment.
Faculty in the OM area include Bintong Chen, professor and associate dean for research; Darwin Davis, associate professor; Adam Fleischhacker, assistant professor; William Gehrlein, professor; Hemant Kher, associate professor; Christine Kydd, professor; and Erwin Saniga, Dana Johnson Professor.
Also of note for the OM area, on May 4 APICS awarded student scholarships to two rising UD seniors, Daniel D. Dreissen and Arielle J. Rich.
According to APICS, Dreissen and Rich were recognized as outstanding operations management majors who demonstrate strong potential for a successful career in the field.
Article by Kathryn Meier