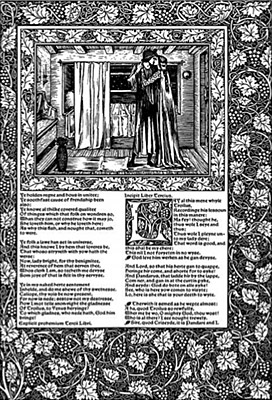 June 1-2: Kelmscott Chaucer on view
University Library to exhibit Kelmscott Chaucer on Alumni Weekend
2:22 p.m., May 25, 2012--The University of Delaware Library will display the Kelmscott Chaucer, one of the great masterpieces of 19th-century fine printing, in conjunction with the 2012 Alumni Weekend.
The work will be shown in the single case near the Information Desk on the first floor of the Morris Library. Hours for viewing this exquisite piece will be from 8 a.m.-5 p.m. on Friday, June 1, and from 9 a.m.-5 p.m. on Saturday, June 2.
June 5: Blue Hen 5K
University of Delaware graduates planning to attend Alumni Weekend are encouraged to register for the annual Blue Hen 5K walk and run, which will be held Sunday morning, June 5.
June 6-9: Food and culture series
The 20th annual June Lecture Series at the Osher Lifelong Learning Institute at UD in Wilmington will be held June 6-9. Titled 'June a la Carte,' this year's program focuses on great political documents, feminism, world politics and a Newark cuisine sampler.
William Morris (1834-1896), a poet, social reformer and a leading figure in the Pre-Raphaelite movement, founded the Kelmscott Press in 1891. 
Named for the Kelmscott Manor House about 30 miles from Oxford, where he lived, the Kelmscott Press issued a total of 65 volumes between the years 1891 and 1898. 
Deeply influenced by the beauty and quality of 15th-century books, Morris emulated them at the Kelmscott Press. His greatest achievement was his edition of The Works of Geoffrey Chaucer [Hammersmith: Kelmscott Press, 1896], which was printed in a limited edition of 425 copies and has become universally known to scholars, collectors and bibliophiles as the Kelmscott Chaucer.