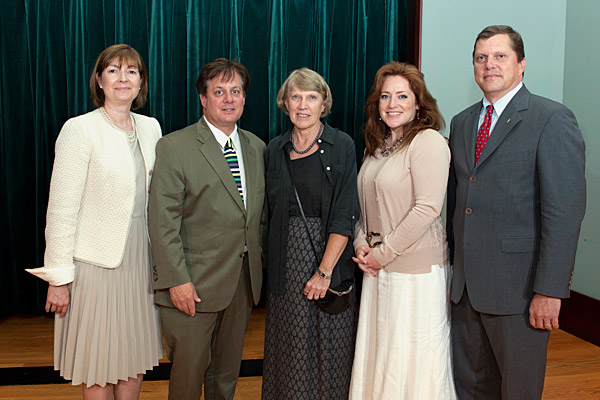 CAS alumni awards
Arts and Sciences alumni recognized at college's annual awards ceremony
10:20 a.m., May 30, 2012--Four alumni from the University of Delaware College of Arts and Sciences (CAS) were recognized at the college's annual year-end ceremony for their excellence, dedication and support. 
"This wonderful group represents excellence in arts and sciences, and their commitment to our college helps strengthen our mission, vision and impact," said Dean George Watson.
National Medal of Science
President Barack Obama recently presented the National Medal of Science to University of Delaware alumnus Rakesh Jain.
Warren Award
Rosalind Johnson, assistant dean for student success in the NUCLEUS Program in UD's College of Arts and Sciences, was presented the John Warren Excellence in Leadership and Service Award during a May 26 ceremony.
The award winners are as follows:
Carolyn Cochrane Kent, Class of 1966
Carolyn Cochrane Kent graduated with a bachelor of science degree in chemistry from Bucknell University and a master of science degree in chemistry from the University of Delaware.  She spent the next 30 years working for Armstrong World Industries in a variety of capacities, including research, government regulations and human resources.  Upon retirement, she has been involved in consulting, property management and property renovation.
She and her husband John Hale have made a charitable gift to the Department of Chemistry and Biochemistry to create the Carolyn C. Kent and John R. Hale Fellowship to provide graduate students studying chemistry with the financial assistance they need to ensure success. They are members of the University's Delaware Diamonds Society and the Carillon Circle.
Deidre A. Bosley, Class of 1979
Deidre (Dee) A. Bosley received her bachelor's degree in political science in 1979 from the University of Delaware and a law degree in 1983 from Marquette University.  Bosley previously worked as an attorney with the Office of the Public Defender.  She serves as president of the fundraising women's group for Johns Hopkins Medical Hospital and is a current member of the board of trustees at Johns Hopkins.
Bosley and her husband, David L. Warnock, a member of UD's Class of 1980, established a biannual Warnock-Bosley lecture series to bring European scholars to the University of Delaware's campus, and a Warnock-Bosley graduate fellowship to award support to an outstanding graduate student completing his or her dissertation.  Both are members of the University's Delaware Diamonds Society and Pillar Society.
David L. Warnock, Class of 1980
David Warnock graduated from the University of Delaware in 1980 with double majors in history and economics and received a master's degree in finance from the University of Wisconsin.
He is a senior partner and co-founder of Camden Partners. He has over 24 years of investment experience and focuses on investments in the business and financial services and education sectors. He serves on numerous boards, including National American University, Nobel Learning Communities, and the Princeton Review, all of which are Camden Partners' portfolio companies.
Warnock is a past recipient of the University's Presidential Citation for Outstanding Achievement.
Amber Kerr-Allison, Class of 2008
Amber Kerr-Allison received her bachelor of arts degree from Virginia Commonwealth University and her master of science degree from the Winterthur/University of Delaware Program in Art Conservation.  She is paintings conservator for the Smithsonian American Art Museum where she works in view of the public at the Lunder Conservation Center, an innovative floor-to-ceiling glass walled facility that provides museum visitors the opportunity to view conservators at work and promotes outreach and education to the general public through lectures, tours, publications and social media platforms. 
Kerr-Allison participated in UD's first Public Engagement and Material Culture Institute program, and has taught public scholarship workshops for graduate students in the College of Arts and Sciences to share her knowledge and success in communicating with the public.  She is dedicated to increasing public awareness for art conservation and promoting professional outreach in her field.
Photo by Kathy F. Atkinson