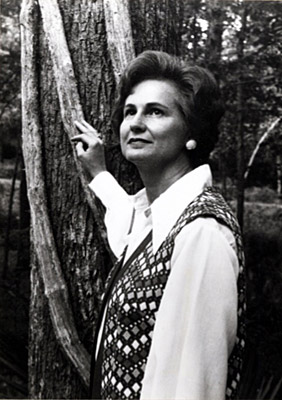 Literary biographer
University Library announces exhibition 'Virginia Spencer Carr, 1929-2012'
9:21 a.m., May 15, 2012--The University of Delaware Library has announced that a small exhibition, "Virginia Spencer Carr, 1929-2012: A Biographer's Work," is on display in the reading room of the Special Collections Department in the Morris Library through Monday, June 18. 
Carr, the noted literary biographer whose papers are held by the University of Delaware Library, died on April 10 at her home in Lynn, Mass.
June 5: Blue Hen 5K
University of Delaware graduates planning to attend Alumni Weekend are encouraged to register for the annual Blue Hen 5K walk and run, which will be held Sunday morning, June 5.
June 6-9: Food and culture series
The 20th annual June Lecture Series at the Osher Lifelong Learning Institute at UD in Wilmington will be held June 6-9. Titled 'June a la Carte,' this year's program focuses on great political documents, feminism, world politics and a Newark cuisine sampler.
Born July 21, 1929, in West Palm Beach, Fla., Carr's future writing career may have been inspired by her mother, Wilma Bell Spencer, who was the society editor of the Palm Beach Daily News and author of a history of Palm Beach. Carr received her bachelor's degree from Florida State University where, among other activities, she was a flying trapeze artist in the school's Flying High Circus. She received her master's degree in English from the University of North Carolina Chapel Hill and returned to Florida State University, where she wrote her dissertation on Carson McCullers.
Carr began her teaching career at Armstrong State College in Savannah, Ga., followed by long-term appointments at Columbus College in Columbus, Ga., the hometown of Carson McCullers, and Georgia State University in Atlanta. She retired from teaching in 2003.
Carr's award-winning 1975 biography of Carson McCullers, the darkly Southern writer of novels and stories featuring memorably isolated characters, was meticulously researched and remains the standard.
Carr published two additional comprehensive biographies, Dos Passos: A Life (1984) and Paul Bowles: A Life (2004), and other critical works about McCullers, Katherine Anne Porter, and Eudora Welty.
Carr met and interviewed Tennessee Williams in the course of her research on McCullers and spent years planning to write a biography of the famous playwright, but after his death, her interests were redirected to Paul Bowles, who was still living, and who agreed to authorize her biography of him. Carr grew close to her subject, visiting the expatriate author at his home in Tangier many times, and hosting him on two separate visits to her own home in Atlanta. 
The Virginia Spencer Carr papers
The Virginia Spencer Carr papers at the University of Delaware Library span nearly 40 linear feet and document the extensive research and publishing projects for the Tennessee Williams (unfinished) and Paul Bowles biographies. 
The collection includes correspondence, interviews, clippings, photographs, subject files, manuscripts and proofs, as well as personal files related to Carr's early years in Florida and a number of books from Carr's personal library.  
Carr's lengthy correspondence with Paul Bowles is also represented in the Paul Bowles paper at the University of Delaware Library, allowing researchers access to both sides of their many exchanges.
This small exhibition presents the biographer's work—manuscripts, correspondence, research ephemera, publishing proofs, and publicity—from early writing, her unfinished Tennessee Williams project, and her three major biographies.  A virtual presentation of the exhibit is available via the library web page.