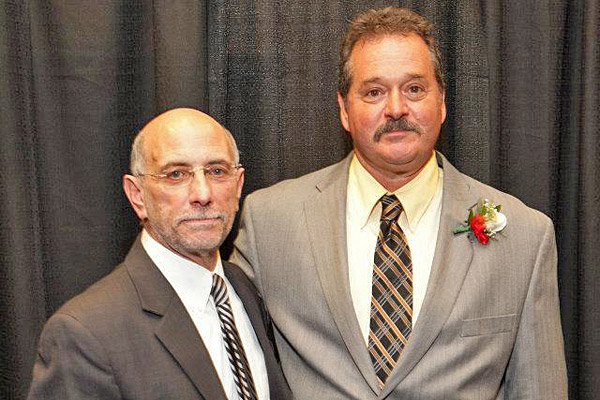 Outstanding kinesiology professional
UD's Abraham receives alumni award from University of Connecticut
7:58 a.m., May 9, 2012--Avron Abraham, associate professor in the Department of Behavioral Health and Nutrition at the University of Delaware, has received the Outstanding Kinesiology Professional Award from the University of Connecticut.  The award was conferred by the Neag School of Education at its annual awards dinner on March 31.
Abraham earned his master of arts and doctoral degrees from the Neag School's Department of Sport, Leisure and Exercise Sciences in 1982 and 1990, respectively. 
National Medal of Science
President Barack Obama recently presented the National Medal of Science to University of Delaware alumnus Rakesh Jain.
Warren Award
Rosalind Johnson, assistant dean for student success in the NUCLEUS Program in UD's College of Arts and Sciences, was presented the John Warren Excellence in Leadership and Service Award during a May 26 ceremony.
He was nominated by professor David Camaione, who was teaching in the department when Abraham arrived at UConn from South Africa as a graduate student some 30 years ago. 
"Dr. Abraham has become a very close friend to me and my family," Camaione wrote in an email. "I am pleased to have had a small impact on his very successful career. The University of Delaware is indeed fortunate to have this talented professional on its staff." 
Abraham's research and professional interests include fitness management, physical activity, and health promotion. In addition to his contributions to multiple publications, scholarly reviews, and presentations, he helped develop UD's health behavior science curriculum.
Abraham has served on the Delaware Governor's Council on Lifestyles and Fitness (1998-2008) and the Network of State and Governors Councils (2001-09), which is the governing board of the National Association for Health and Fitness.  He has also chaired the Delaware Coalition to Promote Physical Activity.
He is currently director of the Center for Academic Success and University Studies, where he oversees the Office of Academic Enrichment, the University Studies Program, and the First Year Seminar Program. He has served on the University Undergraduate Studies Committee, chaired a number of search committees, and been president of the University Faculty Senate.
The Neag School's Outstanding Kinesiology Professional award is given annually to an educator, a researcher, or a health/fitness advocate who has demonstrated excellence and made significant contributions over at least five years in education, professional service, or community service.
Article by Diane Kukich