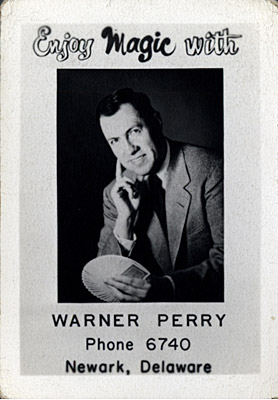 April 2-30: Warner Perry magic
University Library announces exhibition 'Enjoy Magic with Warner Perry'
11:21 a.m., March 21, 2012--The University of Delaware Library announces the opening of a new exhibition "Enjoy Magic with Warner Perry," which will be on display from April 2-30 in the Information Area on the first floor of the Morris Library.
The exhibition will highlight the Warner Perry Collection in Special Collections.
June 5: Blue Hen 5K
University of Delaware graduates planning to attend Alumni Weekend are encouraged to register for the annual Blue Hen 5K walk and run, which will be held Sunday morning, June 5.
June 6-9: Food and culture series
The 20th annual June Lecture Series at the Osher Lifelong Learning Institute at UD in Wilmington will be held June 6-9. Titled 'June a la Carte,' this year's program focuses on great political documents, feminism, world politics and a Newark cuisine sampler.
UD alumnus Clarence Warner Perry, Jr. (1921-1997) was a lifelong magic enthusiast. He designed magic tricks, operated a magic store in Wilmington and performed as an amateur magician. 
The Warner Perry Collection, which was donated to UD by the estate of Warner Perry, consists of Perry's personal collection of printed books about stage magic and his own personal papers, which document his own magic practice. On display will be a selection of printed books on magic and Perry's written notes on how to perform his own magic tricks.
"Enjoy Magic with Warner Perry" is curated by Alexander C. Johnston, assistant librarian, with exhibition preparation by Anita Wellner, library assistant, and design and installation of the physical and virtual exhibition by Laurie Rizzo, assistant librarian, all of the Special Collections Department.
The exhibition will be available online starting April 2.
Holdings of the Special Collections Department of the University of Delaware Library include books, manuscripts, maps, prints, photographs, broadsides, periodicals, pamphlets, ephemera and realia from the fifteenth to the twenty-first century. The collections complement the library's general collections with particular strengths in the subject areas of the arts; English, Irish and American literature; history and Delawareana; horticulture; and history of science and technology.