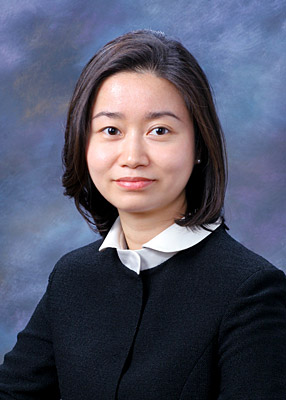 Research honors
Lerner's Park receives award for contributions in consumer psychology
3:25 p.m., March 23, 2012--Ji Kyung Park, assistant professor of marketing in the Alfred Lerner College of Business and Economics at the University of Delaware, was recently presented the C.W. Park Young Contributor Award for 2012.
Given once a year by the Journal of Consumer Psychology (JCP) and Society for Consumer Psychology (SCP), the award recognizes just one scholar with the best first-authored publication in the journal among those who have not yet passed their second year of professorship in the marketing discipline.
National Medal of Science
President Barack Obama recently presented the National Medal of Science to University of Delaware alumnus Rakesh Jain.
Warren Award
Rosalind Johnson, assistant dean for student success in the NUCLEUS Program in UD's College of Arts and Sciences, was presented the John Warren Excellence in Leadership and Service Award during a May 26 ceremony.
Park was recognized at the SCP annual conference for her work.
"It's a great honor to receive this award in recognition of the quality of my paper," said Park. "This award was made possible with huge support from my colleagues at both the University of Delaware and University of Minnesota."
Park, who received her doctorate from the University of Minnesota and holds degrees from Columbia University, Yonsei University and Ewha Womans University, has research interests focused primarily on the relationship between consumption behaviors and the self. 
Her award-winning paper, "More than Meets the Eye: The Influence of Implicit versus Explicit Self-Esteem on Materialism," explored the psychological factors that play into materialistic behavior. 
According to Park, past research suggests people with low self-esteem and insecurity are more likely to have materialistic tendencies. Her paper more closely examined two forms of self-esteem – implicit self-esteem (unconscious evaluations of the self) and explicit self-esteem (conscious evaluations of the self) – and explored how discrepancies between the two drive materialism. 
To reduce self-esteem discrepancies, Park ultimately argued that consumers try to improve themselves through material possessions.
"Individuals with high explicit self-esteem are viewed as less materialistic than those with low explicit self-esteem," said Park. "However, if an individual with high explicit self-esteem had low implicit self-esteem, I predict that individual would be more materialistic than someone with low explicit self-esteem and low implicit self-esteem."
Consequently, Park's paper reveals there is more than meets the eye when it comes to understanding materialism.
"The inconsistencies between explicit and implicit attitudes we hold about ourselves points to why material goods are a salient part of consumer culture," said Park.
By studying the role that implicit self-esteem plays within the broader subject of self-esteem, Park suggested that there are important links between self-esteem discrepancies and materialism research.
Article by Arianne Minch