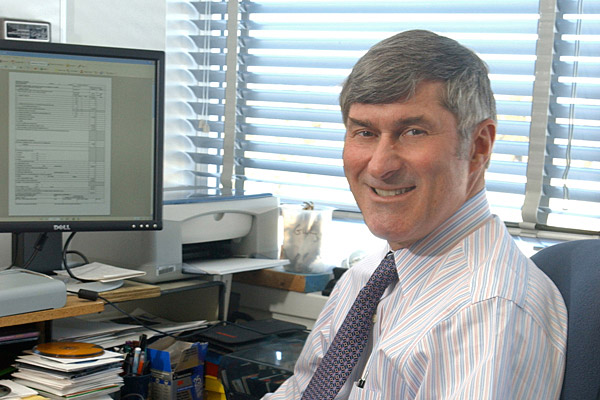 AGU Fellow
Luther recognized by American Geophysical Union for pioneering research
9:40 a.m., March 16, 2012--As a marine chemist conducting research in the 1980s, George Luther was continually circling between the field to collect salt marsh sediment samples and the lab to measure their chemical makeup. Tired of the process, and concerned about chemical reactions changing results during sampling, he invented a creative solution in the early 1990s: a gold-tipped microelectrode sensor that could take instantaneous readings right in the ground. 
Two decades later he is being recognized for his innovative approach and other achievements by being named a 2012 American Geophysical Union (AGU) Fellow for "his pioneering research in redox reactions, trace element speciation and development of novel in situ electrochemical methods."
National Medal of Science
President Barack Obama recently presented the National Medal of Science to University of Delaware alumnus Rakesh Jain.
Warren Award
Rosalind Johnson, assistant dean for student success in the NUCLEUS Program in UD's College of Arts and Sciences, was presented the John Warren Excellence in Leadership and Service Award during a May 26 ceremony.
The honor is given to individual AGU members who have made exceptional scientific contributions and attained eminence in the fields of earth and space sciences. Luther is among only 61 fellows elected this year who will be acknowledged at an annual AGU meeting in December.
As the Maxwell P. and Mildred H. Harrington Professor of Oceanography, Luther studies the different forms chemical elements take in marine waters and sediments. His broad range of research settings have included a metal-contaminated site in New Jersey, the oxygen-depleted Black Sea, warm water springs of Yellowstone National Park, hydrothermal vents at the bottom of the Pacific Ocean and even potentially habitable environments on Mars. 
Luther holds joint appointments in UD's departments of Chemistry and Biochemistry, Civil and Environmental Engineering, and Plant and Soil Sciences. While his interdisciplinary perspective has applications in multiple fields, his chemistry focus is the common thread in his work to understand how various elements – iron, manganese, carbon, iodine and sulfur, to name a few – circulate in the environment.
"I don't really care about which element I study," Luther said. "I care about the chemistry and how the compounds of the elements interact with each other in the environment."
Luther trained in physical-inorganic chemistry, earning his doctorate from the University of Pittsburgh in 1972. He taught at Kean College of New Jersey and chaired the chemistry-physics department there before joining the UD faculty in 1986. Among his professional accomplishments, he has published more than 200 papers in the scientific literature, been selected as an American Association for the Advancement of Science Fellow, received the Geochemical Society's Claire C. Patterson Award for outstanding contributions to environmental geochemistry and received UD's highest faculty honor, the Francis Alison Award. 
Currently Luther is researching nanoparticulate pyrite from hydrothermal vents, manganese cycling in the environment, algae-generated particles affecting air quality and opportunities for collaboration with Xiamen University in China.
"George's vision, enthusiasm and expertise in ocean chemistry make him a valuable contributor to a broad range of research efforts," said Nancy Targett, dean of the College of Earth, Ocean, and Environment. "His interdisciplinary perspective makes him sought-after by collaborators from multiple fields. He is a terrific asset not only at the University of Delaware, but for the larger scientific community."
About the AGU
The AGU is a not-for-profit, professional, scientific organization with more than 60,000 members representing more than 148 countries. AGU advances the Earth and space sciences through its scholarly publications, conferences and outreach programs. 
Article by Teresa Messmore
Photo by Duane Perry