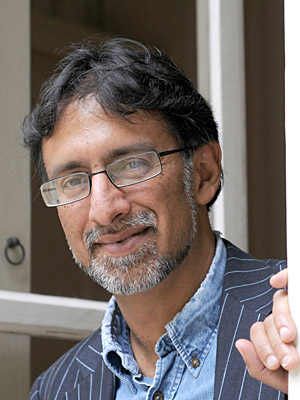 April 19: Bosley-Warnock Lecture
Oxford lecturer to discuss life, legacy, myth of Charles de Gaulle
1:37 p.m., March 15, 2012--The University of Oxford's Sudhir Hazareesingh will deliver the Bosley-Warnock Lecture, discussing "Charles de Gaulle: The Making of a Political Hero" at 7:30 p.m., Thursday, April 19, in 127 Memorial Hall on the University of Delaware campus in Newark.
The presentation is part of the UD Department of History's Alumni Lecture Series, and it is free and open to the public.
June 5: Blue Hen 5K
University of Delaware graduates planning to attend Alumni Weekend are encouraged to register for the annual Blue Hen 5K walk and run, which will be held Sunday morning, June 5.
June 6-9: Food and culture series
The 20th annual June Lecture Series at the Osher Lifelong Learning Institute at UD in Wilmington will be held June 6-9. Titled 'June a la Carte,' this year's program focuses on great political documents, feminism, world politics and a Newark cuisine sampler.
In France, de Gaulle's heroic status is secure: recently he placed first in a poll that asked "Who is the greatest French person of all time?" Internationally, his admirers have included public figures as varied as Richard Nixon and Fidel Castro. But why, and how, did a man who so often caused controversy in his lifetime become such an icon? 
In this talk, Hazareesingh will explain the making of the myth of Charles de Gaulle and the ways that France remains in his shadow.
Hazareesingh is a leading scholar of modern French history and politics. His many publications include Political Traditions in Modern France (1994), The Legend of Napoleon (2004), The Saint-Napoleon: Celebrations of Sovereignty in Nineteenth-Century France (2004), and most recently, In the Shadow of the General: Modern France and the Myth of De Gaulle, which will be published by Oxford University Press in May.
A fellow of the British Academy, Hazareesingh's work has also won accolades in France, where the French edition of his book about de Gaulle won the French Senate's Prix d'Histoire for 2010.
The lecture is sponsored by the UD History Bosley-Warnock Fund, with additional support from UD Faculty Senate Committee on Cultural Activities and Public Events, the European Studies Program and the Department of Political Science and International Relations.
For a flier about the event in PDF format, click here.