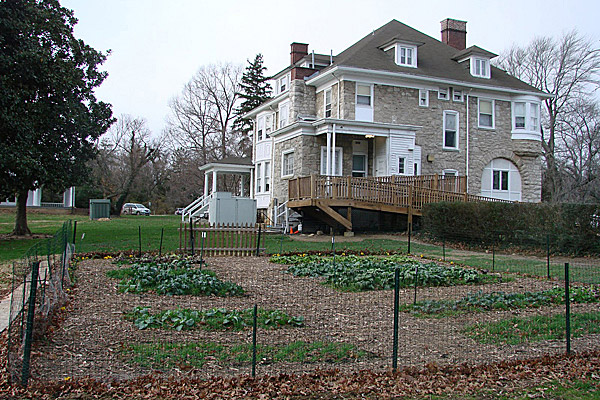 March 22: 'Food for Thought'
UD committee sets presentation on Community Supported Agriculture
11:33 a.m., March 19, 2012--The Food and Garden Policy Committee (FGPC) at the University of Delaware will host "Community Supported Agriculture: Healthy, Sustainable Food Options in Delaware" from 5:30-7:30 p.m., Thursday, March 22, in 104 Willard Hall Education Building.
The free event will be led by FGPC chair Dan Kasper as part of the organization's "Food for Thought" spring workshop series on gardening, food and health. 
June 5: Blue Hen 5K
University of Delaware graduates planning to attend Alumni Weekend are encouraged to register for the annual Blue Hen 5K walk and run, which will be held Sunday morning, June 5.
June 6-9: Food and culture series
The 20th annual June Lecture Series at the Osher Lifelong Learning Institute at UD in Wilmington will be held June 6-9. Titled 'June a la Carte,' this year's program focuses on great political documents, feminism, world politics and a Newark cuisine sampler.
Kasper will introduce the concept of Community Support Agriculture operations (CSAs), how they function in the state of Delaware and around the world; and the physical, personal and economic benefits of participating in CSAs. The workshop will also provide details of how Delaware residents can enroll in local CSAs. 
Other workshops this spring include the following:
"How to Farm and Garden Organically," 5:30-7 p.m., Thursday, April 12, 006 Willard Hall Education Building, featuring local organic farmer Toby Hagerott.
"What is the World is WWOOFing (World Wide Opportunities on Organic Farms)?," 5:30-7 p.m., Thursday, April 19, 5:30-7 p.m., featuring Liz Hetterly and Eva Wilson, location to be determined.
"The Benefits of Eating Fresh, Raw Foods with Green Smoothies," 5:30-7 p.m., Thursday, May 2, 104 Willard Hall Education Building, featuring health professional Christa Smedile.
All workshops and lectures are free and open to the public. Space is limited, so RSVP to Courtney Siegert at siegert@udel.edu.
The FGPC will gratefully accept donations at events to fund garden activities, but they are not required. More information about the series and the FGPC can be found at this website.
More about the FGPC
The Food and Gardening Policy Committee is an all-volunteer student group on the UD campus that provides classroom and hands-on experience to anyone that would like to learn how to sustainably grow chemical-free food.
The committee operates a garden in conjunction with the English Language Institute (ELI) at the ELI building located at 189 W. Main St., in Newark. 
Initial funding for the garden project was provided by the generous donations of the University community through the UD Sustainability Fund.
The garden is open to visitors. Those who are interested in participating in the committee can send email to Dan Kasper at dkasper@udel.edu.