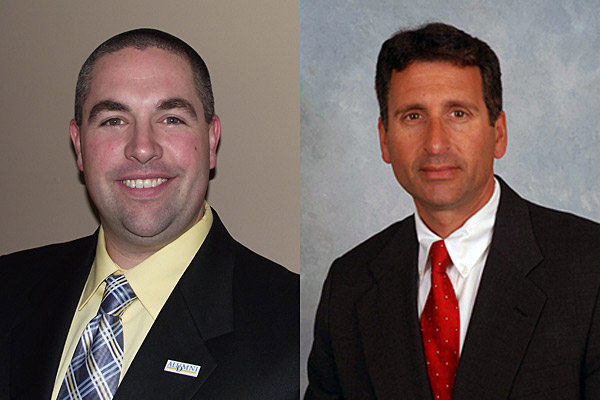 Distinguished honors
UD alumni earn top state engineering awards
3:21 p.m., March 5, 2012--Two University of Delaware alumni recently earned top honors from the Delaware Engineering Society when it named Guy F. Marcozzi the 2012 Engineer of the Year and Jason N. Hastings the 2012 Young Engineer of the Year.
The awards, given annually, distinguish Marcozzi and Hastings among their peers as engineers who have made outstanding contributions to the profession and community during their careers.
National Medal of Science
President Barack Obama recently presented the National Medal of Science to University of Delaware alumnus Rakesh Jain.
Warren Award
Rosalind Johnson, assistant dean for student success in the NUCLEUS Program in UD's College of Arts and Sciences, was presented the John Warren Excellence in Leadership and Service Award during a May 26 ceremony.
Marcozzi is president of Duffield Associates, an engineering firm that specializes in soil, water and the environment. He earned his bachelor's degree in civil engineering (structural engineering) and his master's degree in civil engineering (geotechnical and foundation engineering) at UD in 1985 and 1988, respectively. 
A fellow of American Society of Civil Engineers, Marcozzi is also an active member of the National Society of Professional Engineers, ASFE, the Geoprofessional Business Association, Green Building Council and the ASTM Sustainability and Soil and Rock Committees.
 In 2000, he was the first engineer to be awarded Delaware Young Engineer of the Year by the Delaware Council of Engineering Societies. 
At UD, Marcozzi has served as an adjunct professor in the College of Engineering. He is currently a member of the Department of Civil and Environmental Engineering's advisory committee. 
Hastings is a supervising engineer (bridge design) with the Delaware Department of Transportation. He earned his bachelor's degree and master's degree in civil and environmental engineering in 2000 and 2001, respectively. 
He is a member of the American Association of State Highway and Transportation Officials (AASHTO) Subcommittee on Bridges and Structures. Hastings is also a panel member for the AASHTO T-13 Technical Subcommittee on Culverts, where he was recently named chair of the Flexible Culvert Liaison Committee. 
In 2008, Hastings' design of the Wooddale Covered Bridge Replacement project in Greenville, Del., earned the DelDOT Outstanding Bridge Reconstruction project award. Hastings' design replaced the original bridge which succumbed to flooding during Tropical Storm Henri in 2003.
"We are delighted to have two of our alumni honored by the Delaware Engineering Society this year. They are both outstanding individuals who have dedicated their careers to serving the public through planning, design and construction of civil engineering projects throughout the region. We are proud to call them Blue Hens," remarked Harry (Tripp) Shenton, chair of the Department of Civil and Environmental Engineering.
Article by Karen B. Roberts