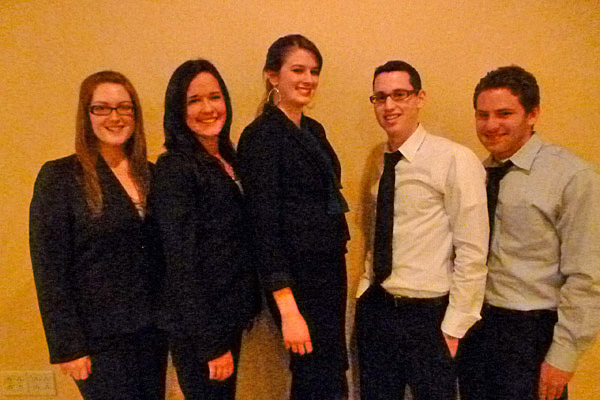 Competitions rule
Lerner College students place third in regional case competition
9:49 a.m., March 14, 2012--With spring comes a new semester, new classes, new activities and … case competitions. With the graduate-level case competition underway in the Alfred Lerner College of Business and Economics, some undergraduate business students also boast honors after competing in an operations management case competition last month.
The third annual student case competition was presented by the APICS (Advancing Productivity, Innovation and Competitive Success) Mid-Atlantic District in mid-February.
National Medal of Science
President Barack Obama recently presented the National Medal of Science to University of Delaware alumnus Rakesh Jain.
Warren Award
Rosalind Johnson, assistant dean for student success in the NUCLEUS Program in UD's College of Arts and Sciences, was presented the John Warren Excellence in Leadership and Service Award during a May 26 ceremony.
Five Lerner College students in the operations management program traveled to Harrisburg, Pa., to compete against nine other undergraduate teams from other universities (APICS allowed just ten teams to participate in the competition).
Lerner College team members Cody Rubenstein, Josh Barchat, Lynn McGinley, Amy Stein and Michelle Barineau impressed the judges with their written and presentation skills, placing third in the competition.
On Friday evening, the students were given a 10-page case study about a Turkish cosmetics company facing adversity from low-cost competitors and poor quality supplies, and struggling from ineffective systems and troubled suppliers. The team's task? Draft a solution for presentation to a panel of judges in just 16 hours.
Barineau called the experience "amazing" despite the time crunch while Barchat was grateful for the off-campus discovery learning.
"Applying what we learned in a classroom to a real case under pretty extreme time constraints provided an exciting new element to my operations management education," said Barineau. "Above all, we had a great time."
Added Barchat, "it was a great experience being able to successfully represent the Lerner College and UD at the case competition. Hopefully future teams will continue the tradition of participating and doing well."
According to Christine Kydd, professor of operations management and adviser to the team, the students worked together through the night to determine a solution for the company in the form of a five-page paper and a 10-minute oral presentation by Saturday morning.
"Their innovative solutions, grasp of operations management theories and systems, and overall presence impressed everyone with whom they came into contact," said Kydd. "This was a great opportunity for our students to apply what they have been learning for the past three semesters to a real case."
Kydd also explained that the students were not allowed to receive any suggestions or coaching from faculty or other coaches at the competition.
"They had only themselves and their teammates to rely on in completing the analysis, which gave them valuable experience outside of the classroom and boosted their self-confidence," said Kydd.
The team received $300 in prize money.
Article by Kathryn Meier