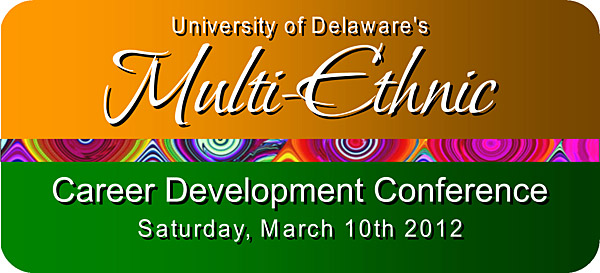 March 10: Multi-ethnic career conference
Multi-Ethnic Career Development Conference scheduled at Clayton Hall
4:06 p.m., March 1, 2012--All University of Delaware students are invited to attend the 2012 Multi-Ethnic Career Development Conference and Diversity Career Fair, scheduled from 9 a.m.-4 p.m., Saturday, March 10, at the Clayton Hall Conference Center on the Laird Campus. 
Featured speaker at the event will be entrepreneur, radio host and author Justin Jones-Fosu, and special guest will be UD alumnus Dana Herbert, winner of TLC's Next Great Baker.
June 5: Blue Hen 5K
University of Delaware graduates planning to attend Alumni Weekend are encouraged to register for the annual Blue Hen 5K walk and run, which will be held Sunday morning, June 5.
June 6-9: Food and culture series
The 20th annual June Lecture Series at the Osher Lifelong Learning Institute at UD in Wilmington will be held June 6-9. Titled 'June a la Carte,' this year's program focuses on great political documents, feminism, world politics and a Newark cuisine sampler.
Undergraduates from all majors will be able to meet alumni from diverse backgrounds, network with employers who value diversity and find internships as well as summer jobs. Those attending will have an opportunity to win an Apple iPad or a $750 bookstore gift certificate. (You must be present to win.) 
At 9:45 a.m., Jones-Fosu will give the keynote presentation, discussing the keys that participants need to unlock their ability to prepare for life after college.
Career development workshops targeted specifically at freshmen, sophomores, juniors and seniors will be offered concurrently from 10:45-11:30 a.m., and four alumni panel discussions are scheduled concurrently from 11:40 a.m.-12:25 p.m.
During the buffet lunch, from 12:30-2:15 p.m., Herbert will showcase his dessert-making skills. 
The event will conclude with the Diversity Career Fair and Networking Event from 2:30-4 p.m. 
The conference is free, but space is limited and advance registration is required. To register, visit the special Center for Career Services website. 
For more information, visit the website, write to mecc-committee@udel.edu or call 302-831-2392.