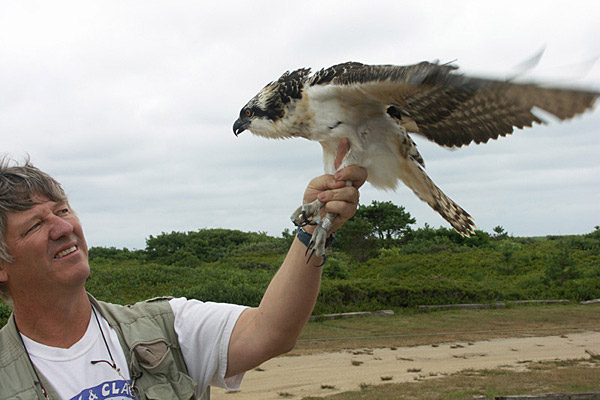 June 21: Ocean Currents
Ocean Currents Lecture Series continues at UD's Hugh R. Sharp Campus
1:39 p.m., June 4, 2012--Ospreys, the large birds of prey commonly seen near Delaware Bay, are the subject of the second Ocean Currents Lecture this summer at the University of Delaware's Hugh R. Sharp Campus in Lewes.
Ornithologist Richard O. (Rob) Bierregaard, Jr., of the University of North Carolina at Charlotte will explain the lives and migrations of these fascinating raptors on Thursday, June 21, at 7 p.m. in Room 104 in the Cannon Laboratory.
June 5: Blue Hen 5K
University of Delaware graduates planning to attend Alumni Weekend are encouraged to register for the annual Blue Hen 5K walk and run, which will be held Sunday morning, June 5.
June 6-9: Food and culture series
The 20th annual June Lecture Series at the Osher Lifelong Learning Institute at UD in Wilmington will be held June 6-9. Titled 'June a la Carte,' this year's program focuses on great political documents, feminism, world politics and a Newark cuisine sampler.
Bierregaard has studied ospreys for more than four decades, most recently tagging juveniles with transmitters to learn about their navigation and mortality. His lecture will give an overview of the birds and share new insights on how they chart their courses – and what happens along the way.
"We're getting to understand a lot more about how they're learning their migratory routes," he said. 
Bierregaard has tracked ospreys from their breeding grounds in Lewes and other East Coast locations to their wintering locales in the Caribbean and South America. UD's Lewes campus is home to an osprey nest, which can be viewed from a live webcam.
The lecture is free and open to the public, but reservations are required due to limited seating by contacting Michelle Scorziello at mkscorzi@udel.edu or 302-645-4346. Light refreshments will be served.
The final two Ocean Currents lectures are scheduled for July with Suzanne Thurman of the Marine Education, Research and Rehabilitation Institute and August with Mark Moline, the incoming Director of School of Marine Science and Policy at UD's College of Earth, Ocean, and Environment. 
Article by Teresa Messmore
Photo by Dick Jennings