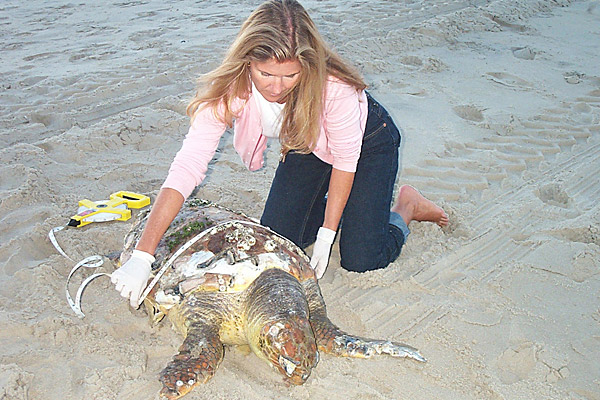 July 19: Ocean Currents
Ocean Currents Lecture Series continues with discussion of sea turtles and marine mammals
2:02 p.m., June 26, 2012--Delaware's coastline may be smaller than those in other seaboard states but the area boasts more than 36 different species of marine mammals and sea turtles annually.
Suzanne Thurman, founder and executive director of the Marine Education, Research and Rehabilitation Institute (MERR), will discuss these beloved coastal inhabitants at the next Ocean Currents Lecture at the University of Delaware's Hugh R. Sharp Campus in Lewes.
June 5: Blue Hen 5K
University of Delaware graduates planning to attend Alumni Weekend are encouraged to register for the annual Blue Hen 5K walk and run, which will be held Sunday morning, June 5.
June 6-9: Food and culture series
The 20th annual June Lecture Series at the Osher Lifelong Learning Institute at UD in Wilmington will be held June 6-9. Titled 'June a la Carte,' this year's program focuses on great political documents, feminism, world politics and a Newark cuisine sampler.
Thurman will present "Marine Mammals and Sea Turtles of the Delaware Coast" on Thursday, July 19, at 7 p.m. in Room 104 in the Cannon Laboratory.
"Large whales, dolphins, porpoises, seals and sea turtles can be observed at different times of the year along the coast, bays and inland waterways of Delaware," Thurman said. "Some are merely passing through, while others remain for stretches of time, utilizing the local marine ecosystem to forage for food, give birth and raise their young."
The lecture will include species identification, insights into behavior and adaptations, and conservation efforts for these animals, some of which are designated as threatened or endangered. Strandings and the role of the MERR Institute as Delaware's official stranding response organization will also be addressed.
MERR is a non-profit stranding response and rehabilitation organization dedicated to the conservation of marine mammals and sea turtles. The volunteer-based group has responded to 1,200 strandings since its inception and educates thousands of people annually about marine animals.
Thurman's lecture is free and open to the public, but reservations are required due to limited seating and can be made by contacting Michelle Scorziello at mkscorzi@udel.edu or 302-645-4346. Light refreshments will be served.
The season's final Ocean Currents lecture will be in August featuring Mark Moline, the new director of the School of Marine Science and Policy at UD's College of Earth, Ocean, and Environment.
Article by Teresa Messmore
Photo by Marine Public Education Office