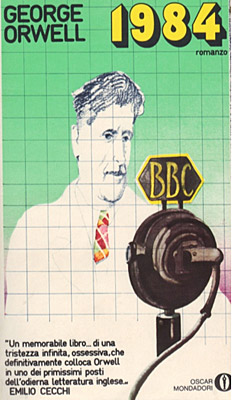 Through July 2: 'Dark Future'
Library exhibits 'A Glimpse into the Dark Future: Orwell's Nineteen Eighty-Four'
10:18 a.m., June 4, 2012--The University of Delaware Library has announced a new exhibition, "A Glimpse into the Dark Future: George Orwell's Nineteen Eighty-Four," which will be on display from June 5 to July 2 in the Information Room on the first floor of the Morris Library.
The exhibition celebrates one of the 20th century's most influential works of dystopian science fiction. First published on June 9, 1949, Nineteen Eighty-Four explored themes of war, nationalism, censorship and state-sponsored surveillance, as seen through the eyes of a citizen in the totalitarian state of Oceania. 
June 5: Blue Hen 5K
University of Delaware graduates planning to attend Alumni Weekend are encouraged to register for the annual Blue Hen 5K walk and run, which will be held Sunday morning, June 5.
June 6-9: Food and culture series
The 20th annual June Lecture Series at the Osher Lifelong Learning Institute at UD in Wilmington will be held June 6-9. Titled 'June a la Carte,' this year's program focuses on great political documents, feminism, world politics and a Newark cuisine sampler.
Since its publication and subsequent translation into dozens of languages, terms such as "Big Brother," "Newspeak" and "thoughtcrime" have become synonymous with authoritarian ideals and political manipulation. 
On display are several versions of Nineteen Eighty-Four held by the Special Collections Department of the University of Delaware Library, published from 1949-1980 and printed in six languages. 
"A Glimpse into the Dark Future: George Orwell's Nineteen Eighty-Four" is curated and designed by Evan Echols, senior assistant librarian, with exhibition preparation by Anita Wellner, library assistant, and installation of the physical and virtual exhibition by Laurie Rizzo, assistant librarian, all of the Special Collections Department.