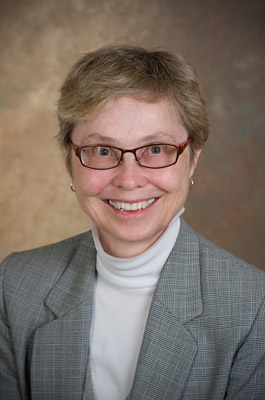 Leader and mentor
UD's Cook continues to drive positive change for women in engineering
8:49 a.m., June 7, 2012--The Women in Engineering ProActive Network (WEPAN) has named the University of Delaware's Pam Cook as the 2012 University Change Agent.
The national award recognizes Cook's efforts to improve the representation of women in science, technology, engineering and mathematics (STEM) fields. She will be honored at the WEPAN national conference, June 25-27, in Columbus, Ohio.
National Medal of Science
President Barack Obama recently presented the National Medal of Science to University of Delaware alumnus Rakesh Jain.
Warren Award
Rosalind Johnson, assistant dean for student success in the NUCLEUS Program in UD's College of Arts and Sciences, was presented the John Warren Excellence in Leadership and Service Award during a May 26 ceremony.
Cook, who joined UD in 1983, has long been a leader in advocating climate and culture changes for women in traditionally male dominated STEM fields. Since she became associate dean of engineering in 2002, the College of Engineering's female faculty representation has increased from 4.5 percent to 16.6 percent. The national average of full female engineering professors is 8.1 percent, according to the Society of Women Engineers. 
Concurrently, over the past decade the percentage of women doctoral recipients in the college has increased from 16 to 30 percent.
"Under Pam's watchful tutelage, the climate for women in engineering is improving," said Babatunde A. Ogunnaike, interim dean of engineering. 
Among Cook's most satisfying accomplishments is the development of UD ADVANCE, a National Science Foundation sponsored program designed to educate STEM faculty and administrators in best practices for the recruitment and retention of faculty. The program offers two annual workshops entitled "Best Practices in Recruitment" and "Mentoring the Mentors." To date, more than 100 faculty from UD and other institutions have attended the workshops.
According to Kristi Kiick, deputy dean of engineering, the UD ADVANCE program has yielded remarkable results with far-reaching long-term outcomes. "Nearly 50 percent of the original ADVANCE workshop participants are now in leadership roles ranging from department chair to provost," said Kiick.
Cook, however, is quick to point out that while she may have been the catalyst, many others have participated in the effort toward equity and inclusion in engineering. In particular, she recognized Michael Chajes, professor of civil and environmental engineering, who serves as principal investigator on the ADVANCE grant; Heather Doty, program manager for the ADVANCE workshops; and the College of Engineering faculty.
She also noted that the climate won't change unless faculty perceptions change, as it is the faculty that does the actual hiring and mentoring. 
"We are fortunate within the UD College of Engineering to have a core of faculty that supports the increased representation of women among the faculty," Cook said.
About Pam Cook
Pam Cook currently serves as associate dean for faculty development in the College of Engineering and professor in the Department of Mathematical Sciences, where she served as chair from 1992-2000. She also holds a secondary appointment as professor in the Department of Chemical and Biomolecular Engineering. She is also vice president for publications of the Society for Industrial and Applied Mathematics (SIAM). 
She served on UD President Patrick Harker's strategic planning committee for diversity and chaired WISE (Women in Science and Engineering). In 2009, Cook received the University's E. Arthur Trabant Award for Women's Equity for her work as chair of UD's Commission on the Status of Women.
More recently, she was the principal investigator of an AAUW Community Action grant that enabled female engineering graduate students to present their research to secondary school science teachers in Delaware, educating them on what engineers do and that women can be effective engineers.
She is an active member of the Association of Women in Mathematics (AWM), and she coordinates the UD Women in Engineering (WIE) graduate steering committee. 
About WEPAN
Engineering ProActive Women in Network (WEPAN) is a national nonprofit organization focused on transforming the "culture in engineering education to attract, retain and graduate women." With over 600 members from engineering schools, businesses, corporations and non-profit organizations, the nonprofit aims to broaden tomorrow's engineering workforce through a pool of highly prepared, diverse women.
Article by Zac Anderson