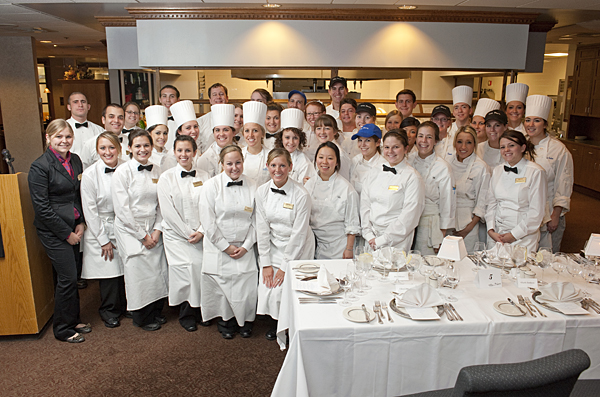 Best in service
Vita Nova brings home Best of Delaware kudos again
3:38 p.m., July 5, 2011--Delaware Today magazine's Best of Delaware 2011 recently awarded Vita Nova, the student-operated restaurant located in the University of Delaware's Trabant Student Center, best in service, marking the second year in a row the restaurant has been recognized for service and the third time the restaurant has been recognized by the publication.
The restaurant, which is part of the Department of Hotel, Restaurant and Institutional Management (HRIM), tied for this year's award with Eclipse Bistro in Wilmington.
National Medal of Science
President Barack Obama recently presented the National Medal of Science to University of Delaware alumnus Rakesh Jain.
Warren Award
Rosalind Johnson, assistant dean for student success in the NUCLEUS Program in UD's College of Arts and Sciences, was presented the John Warren Excellence in Leadership and Service Award during a May 26 ceremony.
Each year, the magazine surveys its readers for the Best of Delaware awards, while in-house critics also select their top picks.
As a critics' choice this year, Vita Nova stood out for it's professional service and knowledgeable staff.  Wrote Delaware Today critics in their review: "The student staff is working hard to be a success in the restaurant industry, so you'd better believe they get it right.  Serve from the right, clear from the left.  And they know the menu better than many servers at traditional restaurants."
Bob Nelson, chairperson of HRIM, said of the honor, "We are so pleased to receive this recognition from Delaware Today for the second year in a row. To repeat in the best in service category is a real credit to the hard work and dedication of our Vita Nova faculty and students. All of us are duly proud of their accomplishments."
Bernd Mayer, dining room manager, trains the students for service and pointed out that consistency creates credibility.
Said Mayer, the students adhere to training standards, participate in daily meetings and pay attention to detail, including making eye contact with guests and providing service with sincerity and a smile.
"It is not enough to meet customer expectations, you must go above and beyond and exceed expectations," added Mayer. "The HRIM students are enthusiastic and passionate about serving our guests, providing a refreshing experience."
Vita Nova also received recognition in the Best of Delaware 2004 for its outstanding lunch buffet.
Article by Kathryn Marrone Meier
Photo by Kathy F. Atkinson