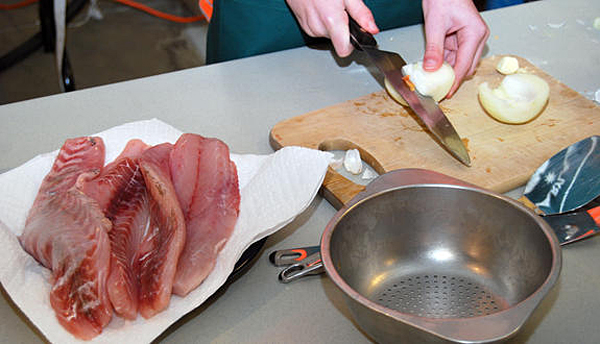 Sept. 20-21: Framing the message about seafood
Delaware Sea Grant organizes conference about communicating seafood safety
10:50 a.m., July 11, 2011--A conference being organized by the Delaware Sea Grant College Program will help shape the seafood consumption message for health care providers and consumers. "Framing the Message About Seafood" will take place Sept. 20–21, at the University of Delaware's John M. Clayton Hall Conference Center in Newark.
The event will convene stakeholders such as dieticians, nutritionists, seafood professionals, environmental scientists, and health care and public health professionals. It will focus on the issues and implications of current messaging efforts related to seafood consumption, with the goal of making recommendations for the implementation of a new science-based message.
June 5: Blue Hen 5K
University of Delaware graduates planning to attend Alumni Weekend are encouraged to register for the annual Blue Hen 5K walk and run, which will be held Sunday morning, June 5.
June 6-9: Food and culture series
The 20th annual June Lecture Series at the Osher Lifelong Learning Institute at UD in Wilmington will be held June 6-9. Titled 'June a la Carte,' this year's program focuses on great political documents, feminism, world politics and a Newark cuisine sampler.
"There are a number of seafood guides and other advisories out there about seafood that health care providers and others give to consumers," said Doris Hicks, event organizer and seafood technology specialist with Delaware Sea Grant. "They detail the risks and benefits of seafood and provide other information about integrating fish and shellfish into a healthy diet."
However, Hicks said, as new information emerges about seafood consumption, it's important for stakeholders to come together and discuss how to get that science-based information to consumers.
Advance registration is required by Sept. 1, and is $50 per person. Download the event brochure (in PDF format) for more information, including a complete agenda, and to register with payment by check. Visit the conference website to register online.
In addition to the Delaware Sea Grant College Program, the event is organized by Oregon State University, the University of Rhode Island, University of Florida, University of California, and Cornell University. It is sponsored by the U.S. Department of Agriculture.
For more information about this event, contact Doris Hicks at 302-645-4297 or dhicks@udel.edu.