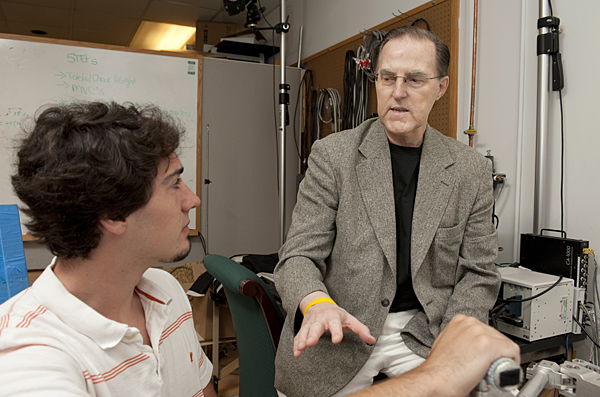 Fourth Fellow
Physical therapy professor receives Catherine Worthingham Award
10:17 a.m., July 7, 2011--John Scholz, professor in the Department of Physical Therapy at the University of Delaware, has been elected a Catherine Worthingham Fellow of the American Physical Therapy Association (APTA).  He is the fourth UD professor to achieve this status, the APTA's highest honor, in the past seven years.
Scholz's research is directed toward understanding the control and coordination of movement in healthy people as well as in patients with movement dysfunction, particularly individuals with stroke. His work examines how the brain controls functional movements, motor learning and movement coordination, and he has developed novel treatment approaches that combine robotics, electrical stimulation and motor learning to help stroke survivors recover lost function.
National Medal of Science
President Barack Obama recently presented the National Medal of Science to University of Delaware alumnus Rakesh Jain.
Warren Award
Rosalind Johnson, assistant dean for student success in the NUCLEUS Program in UD's College of Arts and Sciences, was presented the John Warren Excellence in Leadership and Service Award during a May 26 ceremony.
The APTA cited Scholz as "a highly regarded movement scientist renowned for his ability to take complex theoretical concepts of motor control and apply them to the understanding and treatment of neurologic problems."
The association also credited him with developing a classic, frequently cited paper on application of the concepts of dynamical systems theory—an area of applied mathematics used to describe the behavior of complex systems—to interventions for physical therapy.
A licensed physical therapist in Delaware and Pennsylvania, Scholz earned his doctorate in experimental psychology and motor control at the University of Connecticut. He joined the UD faculty in 1988.
Three other UD faculty members—Stuart Binder-Macleod, Lynn Snyder-Mackler and Irene Davis—have been elected Catherine Worthingham Fellows since 2003.
"This is truly a tribute to the quality of our PT program that four of our faculty have been recognized with this prestigious award during the past several years," said Kathleen Matt, dean of the College of Health Sciences. "Our faculty are making major contributions through patient-focused research that is immediately translated into practice at our clinics."
About the award
Catherine Worthingham was a change agent who was effective, respectful and honest, and motivated others to make an impact within the physical therapy profession. She was also a visionary who demonstrated leadership across the domains of advocacy, education, practice and research.
The purpose of the Catherine Worthingham Fellow designation (FAPTA) is to honor Worthingham and inspire all physical therapists to attain the high level of professional excellence and impact in terms of advancing the profession she exemplified.
The FAPTA designation is the highest honor among APTA's membership categories.
Criteria for selection include demonstrated excellence in advocacy, education, practice, or research; national recognition by APTA members and leaders outside the physical therapy profession; and frequent and sustained contributions over a period of at least 15 years.
Article by Diane Kukich
Photo by Kathy F. Atkinson