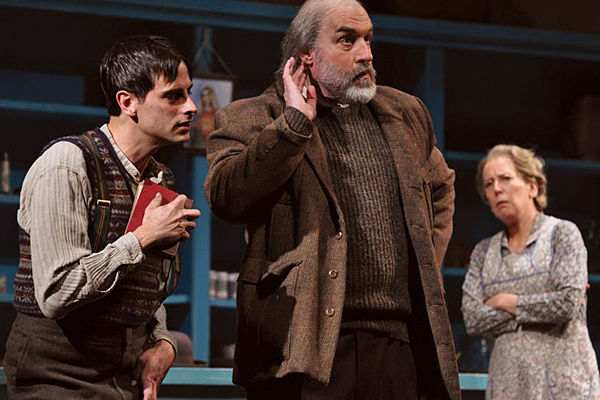 Jan. 26-Feb. 12: REP on stage
UD REP presents Martin McDonagh's 'The Cripple of Inishmaan'
11:42 a.m., Jan. 24, 2012--A heartbreakingly hilarious dark comedy by one of Ireland's most celebrated playwrights takes the stage when Delaware's resident professional acting company, the Resident Ensemble Players, presents The Cripple of Inishmaan by Martin McDonagh, playing Jan. 26 through Feb. 12 at the Thompson Theatre in the Roselle Center for the Arts on the University of Delaware campus in Newark.
Guest artist J.R. Sullivan, the artistic director of New York City's Pearl Theatre Company, stages this wickedly charming tale full of eccentric characters and plot twists. The Philadelphia Inquirer called the piece "a play of endearing Irish souls, madcap humor… [and] dialogue that jigs and capers…indescribably funny…."
June 5: Blue Hen 5K
University of Delaware graduates planning to attend Alumni Weekend are encouraged to register for the annual Blue Hen 5K walk and run, which will be held Sunday morning, June 5.
June 6-9: Food and culture series
The 20th annual June Lecture Series at the Osher Lifelong Learning Institute at UD in Wilmington will be held June 6-9. Titled 'June a la Carte,' this year's program focuses on great political documents, feminism, world politics and a Newark cuisine sampler.
In the play, word arrives on the Irish isle of Inishmaan that a famed Hollywood director is coming to a neighboring island to shoot a film. Cripple Billy, a bored and lonely orphan being raised by his quirky aunties, would give anything to escape his tedious life by snagging a role in the movie. When Billy lands a screen test, the oddball citizens of Inishmaan mount a front of resistance, bursting with dark madcap humor and touching devotion.
"This world that McDonagh asks us to explore has been both a challenge and a real joy," states actor Michael Gotch, who plays the title role. "I find myself laughing out loud at how well the playwright crafts humor in one moment and then lays you out with a knockout punch in the next. Mixed in with the dark humor is a big, beating heart and soul in all the characters on this tiny island."
Performances run from Friday, Jan. 27, through Sunday, Feb. 12, with a preview performance on Thursday, Jan. 26. Tickets are $19-$25, with discounts for students, seniors and University of Delaware faculty and staff. 
Tickets can be purchased by calling the REP box office at 302-831-2204, in person at the Roselle Center for the Arts, 110 Orchard Rd., Newark, or online at www.rep.udel.edu.
The performance schedule is as follows: Jan. 26, 27, 28, and Feb. 3, 4, 9, 10 and 11, at 7:30 p.m.; and Jan. 28 and Feb. 4, 11 and 12, at 2 p.m.
Prior to the matinee performance on Jan. 28 at 1:15 p.m. is the REP Prologue, a free and informal presentation about the production designed to enhance patrons' enjoyment and understanding of what they are about to experience.
A talk-back with the cast will take place following the evening performance on Feb. 9.
The Roselle Center for the Arts is located at 110 Orchard Rd., on the corner of Orchard Road and Kent Way, in Newark. A convenient parking garage is attached to the center.
A complete schedule, directions and information on purchasing tickets can be found at the REP's website or by calling the REP's box office at 302-831-2204.
Photo by Nadine Howatt