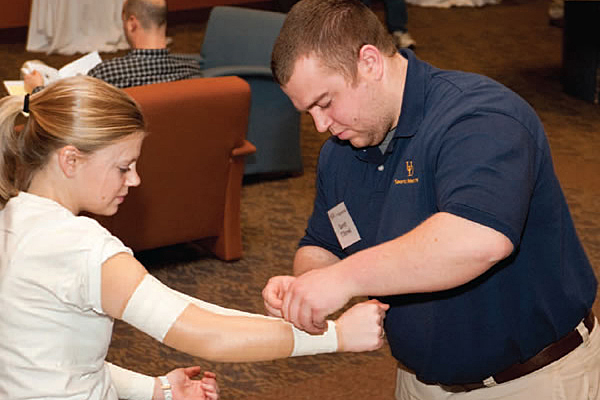 Feb. 4: Sports and medicine
UD to host 43rd annual Medical Aspects of Sports seminar
8:17 a.m., Jan. 10, 2012--The 43rd annual Medical Aspects of Sports seminar will take place at the University of Delaware's Clayton Hall on Saturday, Feb. 4.
The early registration rate of $185 is available through Jan. 27. Full-time matriculated students may register for only $80.
June 5: Blue Hen 5K
University of Delaware graduates planning to attend Alumni Weekend are encouraged to register for the annual Blue Hen 5K walk and run, which will be held Sunday morning, June 5.
June 6-9: Food and culture series
The 20th annual June Lecture Series at the Osher Lifelong Learning Institute at UD in Wilmington will be held June 6-9. Titled 'June a la Carte,' this year's program focuses on great political documents, feminism, world politics and a Newark cuisine sampler.
This one-day program covers topics related to the evaluation and rehabilitation of sports-related injuries to the upper and lower extremities. It is recommended for physical therapists, team and family physicians, athletic trainers, coaches, fitness club personnel, and students or school personnel involved in physical education, recreation and physical fitness programs.
Topics covered this year include depression and anxiety in athletes, return-to-play criteria after cervical spine injuries, ankle instability, concussions and more. A sports taping clinic is conducted by students in UD's athletic training program.
The seminar director is Keith Handling, associate professor in the Department of Kinesiology and Applied Physiology at UD. Presenters include UD faculty as well as expert physical therapists and practitioners from the region. 
This year's presenters from the University's Intercollegiate Athletics Program include current UD head athletic trainer John Smith and assistant athletic trainer Dan Watson as well as UD's assistant director of athletics for sports medicine Andrew Reisman. 
Also presenting from UD are Alan Needle, doctoral student in biomechanics and movement science, and Dan Tocci, graduate assistant athletic trainer.
"This event provides UD's athletic training students a valuable opportunity to present to an audience of practitioners, and to network and interact with professionals in their field," comments Handling. "The seminar also helps area practitioners keep current in the field and maintain their certifications, and gives our students a concrete experience which makes them aware of a very important aspect of the field: the need for continuing professional development for athletic trainers." 
The University of Delaware is recognized by the Board of Certification, Inc., to offer 8.0 Continuing Education Units (CEUs) to certified athletic trainers for completion of this program; and 0.8 CEUs for the state of Delaware Examining Board of Physical Therapists. Practitioners outside of Delaware should contact their state examining board to verify applicable credit.
Medical Aspects of Sports is sponsored by the UD Intercollegiate Athletics Program in cooperation with the Division of Professional and Continuing Studies. The athletic training education program at the University of Delaware has the distinction of being one of the oldest accredited programs in the nation, and the only one in the state of Delaware.
For more information about this program call 302-831-8837, visit the website or write to continuing-ed@udel.edu.