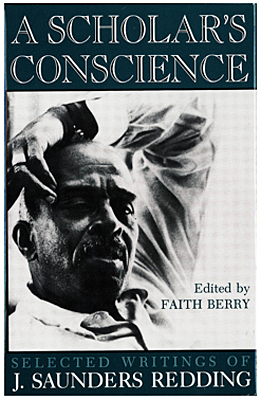 Jan. 17-April 27: J. Saunders Redding exhibition
University of Delaware Library announces exhibition on J. Saunders Redding
8:33 a.m., Jan. 13, 2012--The University of Delaware Library has announced "J. Saunders Redding: An Exhibition," which celebrates the life and career of the prominent African American author, critic and educator J. Saunders Redding. The exhibition will be on view Tuesday, Jan. 17, through Friday, April 27, in conjunction with Black History Month.
James Thomas Saunders Redding was born in Wilmington, Del., in 1906, the third of seven children. His parents were alumni of Howard University and instilled in their children the value of education, and all seven went on to college and had successful careers. 
June 5: Blue Hen 5K
University of Delaware graduates planning to attend Alumni Weekend are encouraged to register for the annual Blue Hen 5K walk and run, which will be held Sunday morning, June 5.
June 6-9: Food and culture series
The 20th annual June Lecture Series at the Osher Lifelong Learning Institute at UD in Wilmington will be held June 6-9. Titled 'June a la Carte,' this year's program focuses on great political documents, feminism, world politics and a Newark cuisine sampler.
J. Saunders Redding's older brother, Louis L. Redding, became the first African American attorney admitted to the bar in Delaware and was a member of the NAACP legal team that challenged school segregation in the Brown v. Board of Education case in front of the U.S. Supreme Court.
Like his brother, J. Saunders Redding graduated from Brown University, and did graduate work at both Brown and Columbia University. 
He began his distinguished academic career as a member of the faculty at Morehouse College (1928-31) in Atlanta. He later taught at Louisville (Ky.) Municipal College (1934-36) and Southern University (1936-38) in Baton Rouge, La., and served as head of the English department at Elizabeth City (N.C.) State University (1938-43). 
Also, Redding worked at Hampton (Va.) Institute (1943-55) as professor of literature and creative writing. He was a member of the faculty at George Washington University (1968-69) in Washington, D.C., and was the first African American to hold the rank of professor in the College of Arts and Sciences and the first to hold an endowed chair at Cornell University (1970) in Ithaca, N.Y.
He was a Guggenheim Fellow twice, in 1944-45 and 1959-60.
Redding wrote a well-received novel, Stranger and Alone (1950) and two published memoirs, On Being Negro in America (1951) and No Day of Triumph (1942), but he is best known for his historical and critical writing, particularly his groundbreaking first book To Make a Poet Black (1939).
"J. Saunders Redding: An Exhibition" will display examples of his published work as well as books from his personal library that are owned by Special Collections in the University of Delaware Library. The exhibition is curated by Timothy D. Murray, head of the library's Special Collections Department.
About the Special Collections Department
Holdings of the Special Collections Department of the University of Delaware Library include books, manuscripts, maps, prints, photographs, broadsides, periodicals, pamphlets, ephemera and realia from the 15th to the 21st century. The collections complement the library's general collections with particular strengths in the subject areas of the arts; English, Irish and American literature; history and Delawareana; horticulture; and history of science and technology.