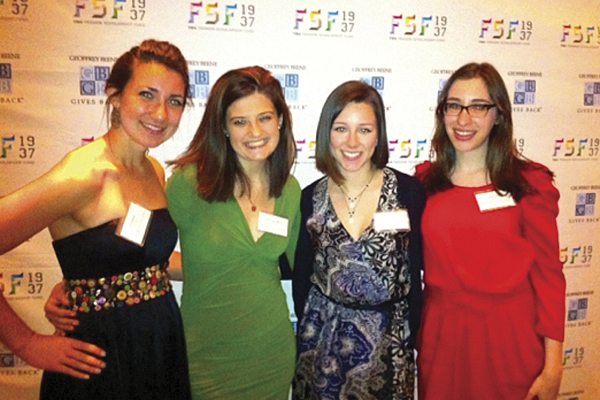 Fashion honors
Seven students from Fashion and Apparel Studies receive prestigious awards
10:32 a.m., Jan. 25, 2012--Seven students from the University of Delaware's Department of Fashion and Apparel Studies have been named winners of the 2012 YMA Fashion Scholarship Fund (FSF) competition.  Each will receive a $5,000 scholarship as well as an internship at top retail company and an executive mentor who will assist them in networking at the top levels of the fashion industry.
Scholarships were awarded in two categories -- apparel design and fashion merchandising.
National Medal of Science
President Barack Obama recently presented the National Medal of Science to University of Delaware alumnus Rakesh Jain.
Warren Award
Rosalind Johnson, assistant dean for student success in the NUCLEUS Program in UD's College of Arts and Sciences, was presented the John Warren Excellence in Leadership and Service Award during a May 26 ceremony.
Students receiving scholarships in apparel design were: Dana Finkle, Christine Howard, Stacey Lipschitz, Alexandra McKay and Emma Sidoriak.
Sabriya Jefferson and Michelle Ma were the fashion merchandising winners.
UD is one of 34 educational institutions selected to participate in the YMA Fashion Scholarship Fund competition.  Other institutions participating include the Fashion Institute of Technology, Parsons School of Design, Harvard University, the University of Virginia, the University of Pennsylvania and Cornell University.  The fund awards about 125 scholarships.
UD has competed for the past two years and has consistently received the top number of student winners.  "The fact that UD has the highest number of winners each year speaks to the quality of our program in both apparel design and fashion merchandising," said Marsha Dickson, chair of the Department of Fashion and Apparel Studies. 
Students received their awards on Jan. 10 at the historic Waldorf Astoria Hotel in New York City. The keynote speaker was Macy's chief merchandising officer, Jeff Genette, and Jason Wu received the Future of Fashion Award. Wu is the young designer who designed First Lady Michelle Obama's inaugural gown.
"Meeting other award winners and speaking to leaders in the fashion industry were amazing experiences that I will take with me throughout the rest of my career. The event was inspirational, and I look forward to working hard and applying again next year," said Sidoriak, an apparel design major and Honors Program student.
Jefferson, a UD fashion merchandising major, said, "I am extremely honored to receive the FSF award. Being recognized by such an established organization in the industry, and given the opportunity to learn from an executive mentor, confirms to me that I have made the right choice of pursuing a career in fashion."
About the YMA Fashion Scholarship Fund
The YMA Fashion Scholarship Fund is a national non-profit association consisting of influential members of the fashion community, dedicated to promoting education of the fashion arts and business by granting scholarships to talented students and facilitating internships, mentorships and career programs. 
FSF's goal is to advance the fashion industry by encouraging Gifted and enterprising young people to pursue careers in design, merchandising, retailing and business so the industry will continue to attract dedicated, capable and creative individuals.