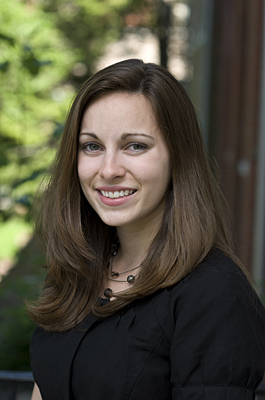 PR star
PR News honors UD OCM's Meredith Chapman for work in social media
10:19 a.m., Jan. 3, 2012--Meredith Chapman, senior news editor in the University of Delaware Office of Communications and Marketing, has earned national recognition from PR News.
Chapman, a UD alumna, earned an honorable mention in the Social Media Professional of the Year category in the organization's annual awards. 
National Medal of Science
President Barack Obama recently presented the National Medal of Science to University of Delaware alumnus Rakesh Jain.
Warren Award
Rosalind Johnson, assistant dean for student success in the NUCLEUS Program in UD's College of Arts and Sciences, was presented the John Warren Excellence in Leadership and Service Award during a May 26 ceremony.
Chapman was honored alongside social media professionals from PepsiCo, health care giant Kaiser Permanente and global public relations firm Weber Shandwick, among others.  Her recognition came at an awards ceremony held at the National Press Club in Washington, D.C.
"Meredith has worked closely and strategically with colleagues in OCM and across the University to take advantage of the incredibly fast growing field of social media. UD is a leader in capitalizing on the marketing, communications and affinity-building benefits of social media among the nation's institutions of higher education and regional corporations thanks to her leadership. This award is positive recognition of her talent and idea leadership," said David Brond, vice president for communications and marketing.
In honoring Chapman, PR News cited her work spearheading UD's social media efforts, its day-to-day operations, creating a social media guide and portal for the University.
A former television producer and Congressional press secretary, Chapman joined the Office of Communications and Marketing in 2010. She earned her bachelor's degree in communication at UD.