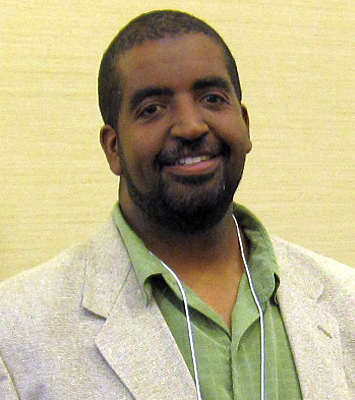 Feb. 15: CDS Lunchtime Learning
Mobile computing devices as assistive technology CDS Lunchtime Learning topic
4:07 p.m., Jan. 24, 2012--The University of Delaware Center for Disabilities Studies (CDS) will present "Androids, iPads and Apps! Oh My! Mobile Computing Devices as Assistive Technology" as the next program in its series of Lunchtime Learning sessions.
Marvin Williams, assistive technology specialist at the center's Delaware Assistive Technology Initiative, will examine the expanding world of mobile devices in this session. Williams will also demonstrate how these devices can be used as assistive technology and discuss their accessibility.
June 5: Blue Hen 5K
University of Delaware graduates planning to attend Alumni Weekend are encouraged to register for the annual Blue Hen 5K walk and run, which will be held Sunday morning, June 5.
June 6-9: Food and culture series
The 20th annual June Lecture Series at the Osher Lifelong Learning Institute at UD in Wilmington will be held June 6-9. Titled 'June a la Carte,' this year's program focuses on great political documents, feminism, world politics and a Newark cuisine sampler.
The Lunchtime Learning session will held on Wednesday, Feb. 15, from noon to 1 p.m. in Room 132A at the Center for Disabilities Studies, 461 Wyoming Road, Newark. 
The program is free and open to the public; however, reservations are requested. Contact Meredith Cooke at mercooke@udel.edu or 302-831-3632 and indicate if you need an accommodation. Attendees are welcome to bring a bag lunch. Water and snacks will be served.
CDS has also scheduled a lunchtime learning session for March 13, featuring a presentation by Roberta Gealt, associate scientist with the University's Center for Drug and Alcohol Studies. 
She will share the data she has collected from the Youth Risk Behavior Survey conducted in middle schools and high schools; it shows that students with disabilities are engaged in high-risk behaviors at rates that consistently exceed students without disabilities.
The Center for Disabilities Studies at the University of Delaware supports the wellbeing, inclusion and empowerment of people with disabilities and their families. The mission of the center is to enhance the lives of individuals and families through education, prevention, service and research related to disabilities. CDS promotes independence and productivity so individuals and families can fully participate in the life of their communities in Delaware and beyond. For further information, visit the Center for Disabilities Studies website or call 302-831-6974.
The Delaware Assistive Technology Initiative, a CDS program, connects Delawareans who have disabilities with the tools they need in order to learn, work, play and participate in community life safely and independently. DATI operates Assistive Technology Resource Centers that offer training as well as no-cost equipment loans and demonstrations. For further information, visit the DATI website or call 302-651-6790.