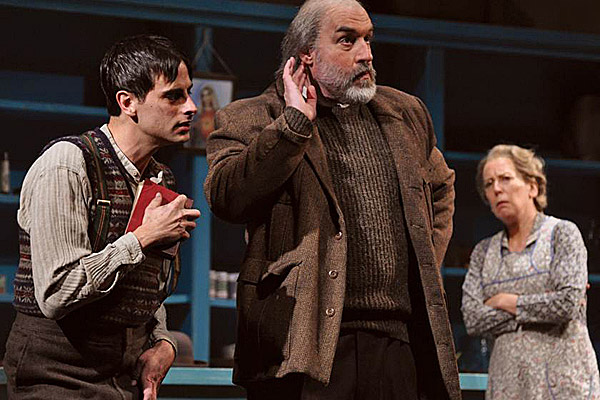 Theatre program in spotlight
University's theatre department featured in national Broadwayworld blog
10:22 a.m., Feb. 16, 2012--The Broadway spotlight was cast on the University of Delaware on Friday, Feb. 10, when one of the most widely read blogs about the performance industry recognized the University's theatre department.  
Broadwayworld.com covers theatre productions in New York and around the country, and the website recently launched a feature to showcase university theatre programs to prospective students.  Certain schools are featured in "spotlight" articles, which describe the shows a university theatre department has put on in recent years as well as the degrees and concentrations offered at the school. 
National Medal of Science
President Barack Obama recently presented the National Medal of Science to University of Delaware alumnus Rakesh Jain.
Warren Award
Rosalind Johnson, assistant dean for student success in the NUCLEUS Program in UD's College of Arts and Sciences, was presented the John Warren Excellence in Leadership and Service Award during a May 26 ceremony.
The spotlight article on the University of Delaware highlighted the Professional Theatre Training Program (PTTP) and its conservatory-style graduate studies that culminate in a master's degree in acting, stage management, or production and design.  
The website also recognized the program's relationship with the University's Resident Ensemble Players, noting some of the ensemble's past performances and its recent production of Martin McDonagh's The Cripple of Inishmaan.
Nadine Howatt, director of marketing and communication for the REP and PTTP, said access to professional actors is a quality that contributes to the uniqueness of the PTTP.  She said she and other members of the department were excited the program was featured in one of the premier theatre blogs in the country.
"We were thrilled and delighted that they recognized our program and chose to spotlight us," Howatt said. 
The REP will be staging two more productions this semester: Our Country's Good will run from March 8 until March 23, and The Skin of Our Teeth will run from April 19 to May5.  
Tickets can be purchased by calling the REP box office at 302-831-2204, in person at the Roselle Center for the Arts or online at www.rep.udel.edu.
Article by Lauren Pitruzzello
Photo by Nadine Howatt