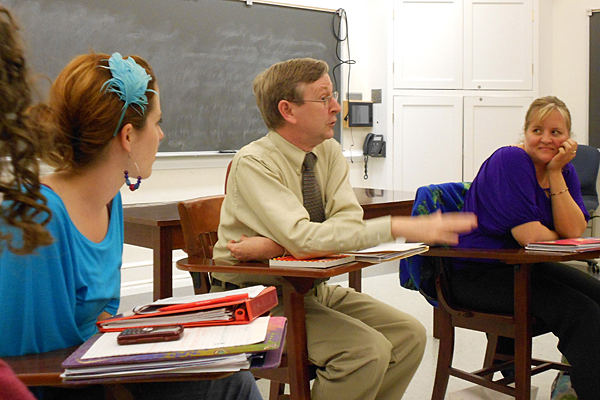 Feb. 13: DTI open house
UD hosts open house for K-12 teachers interested in Delaware Teachers Institute
1:21 p.m., Feb. 1, 2012--The Delaware Teachers Institute (DTI), which offers K-12 educators in New Castle County a unique professional development opportunity, will hold its second annual open house for interested teachers on Monday, Feb. 13, from 4:30-6 p.m., in the Puglisi Orchestra Hall of the Roselle Center for the Arts on the University of Delaware campus in Newark.
Composed of small groups of K-12 teachers, DTI offers seminars on academic topics that teachers have identified as being most relevant to their instructional needs.  Teachers, in turn, collaborate with colleagues and their UD seminar leaders (professors) to produce standards-based curriculum units that are rich in content and effective in pedagogy.
June 5: Blue Hen 5K
University of Delaware graduates planning to attend Alumni Weekend are encouraged to register for the annual Blue Hen 5K walk and run, which will be held Sunday morning, June 5.
June 6-9: Food and culture series
The 20th annual June Lecture Series at the Osher Lifelong Learning Institute at UD in Wilmington will be held June 6-9. Titled 'June a la Carte,' this year's program focuses on great political documents, feminism, world politics and a Newark cuisine sampler.
At the Feb. 13 open house, interested teachers will learn about DTI's mission, the application process and the 2012 seminar offerings. 
The five seminars to be offered in fall 2012 are:
As "fellows" of the DTI, teachers are paid a stipend, earn Department of Education clock hours and have their curriculum units published on the websites of both Yale University and the University of Delaware. 
Registration for the open house is required, and attendees are asked to RSVP to DTI Director Ray Theilacker, by Tuesday, Feb. 7, at rtheila@udel.edu. 
About the Delaware Teachers Institute
The Delaware Teachers Institute is one of five "League of Teachers Institutes" affiliated with Yale University, and modeled after the renowned Yale National Initiative to Strengthen Teaching in Public Schools.