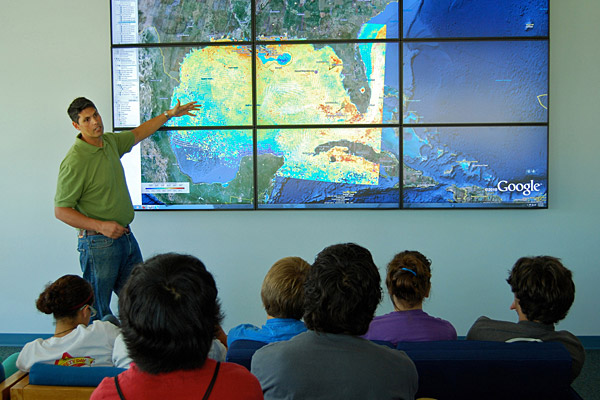 On the radar
UD oceanographer Matthew J. Oliver honored as Sloan Research Fellow
8:50 a.m., Feb. 20, 2012--When the prestigious Sloan Research Fellowships broadened in scope this year to include researchers in the ocean sciences, a UD oceanographer was among the first in the field to be selected for the honor.
Matthew J. Oliver, assistant professor of oceanography in the College of Earth, Ocean, and Environment (CEOE), received the award from the Alfred P. Sloan Foundation last week. The fellowships are given to early-career scientists and scholars whose achievements and potential identify them among the next generation of scientific leaders.
National Medal of Science
President Barack Obama recently presented the National Medal of Science to University of Delaware alumnus Rakesh Jain.
Warren Award
Rosalind Johnson, assistant dean for student success in the NUCLEUS Program in UD's College of Arts and Sciences, was presented the John Warren Excellence in Leadership and Service Award during a May 26 ceremony.
"Matt's performance here at the University of Delaware has been nothing short of remarkable," said Charles Epifanio, former director of the School of Marine Science and Policy, who nominated Oliver for the fellowship with incoming director Mark Moline. "He has excelled in every aspect of the professoriate—scholarship, teaching and service—and he is a leader in the application of new technology to fundamental problems ranging from coastal productivity to ocean biogeography." 
Oliver's research combines remote sensing with on-the-ground field research to understand complex ocean dynamics. He takes a global perspective in studying the biogeography of oceans, examining where organisms live, in what abundance and under which environmental conditions. His recent projects involve tracking penguins in Antarctica, butterfish and algal blooms in the mid-Atlantic and salinity levels in the Delaware Bay.
Oliver graduated from California Polytechnic State University and earned his doctorate from the Institute of Marine and Coastal Sciences at Rutgers University. He joined the UD faculty in 2008 and created the Global Visualization Lab at UD's Hugh R. Sharp Campus in Lewes to combine data from satellites, underwater vehicles and other sources using Google Earth. He received a NASA New Investigator Award in 2008 and a Presidential Early Career Award for Scientists and Engineers (PECASE) in 2010.
His distinction as a 2012 Sloan Research Fellow puts him among only 126 researchers drawn from 51 colleges and universities. Historically awarded in seven scientific fields—chemistry, computer science, economics, mathematics, evolutionary and computational molecular biology, neuroscience and physics—the fellowships were expanded this year to include awards to eight young researchers working in the ocean sciences. The new field was added in recognition of the extraordinary work performed, much of it by young scientists, during the ten-year Census of Marine Life. Fellows receive $50,000 to be used to further their research.
Oliver said the award gives him liberty to explore new areas and enhance his understanding of ocean biomes and complex ecosystems. He has plenty of ideas on how to use the funding, such as adding equipment in Antarctica for his ongoing research, but he said the news of his fellowship is still sinking in.
"I know that the competition for this is very steep, so I was very, very surprised," Oliver said. "I feel very honored that my community would pick me." 
About the Alfred P. Sloan Foundation
The Alfred P. Sloan Foundation is a nonprofit grant-making institution based in New York City. Established in 1934 by Alfred Pritchard Sloan, Jr., then-president and chief executive officer of the General Motors Corporation, the foundation makes grants in support of original research and education in science, technology, engineering, mathematics and economic performance. 
The Sloan Research Fellowships are awarded in close cooperation with the scientific community. To qualify, candidates must first be nominated by their peers and are subsequently selected by an independent panel of senior scholars.
Article by Teresa Messmore
Photos by Lisa Tossey