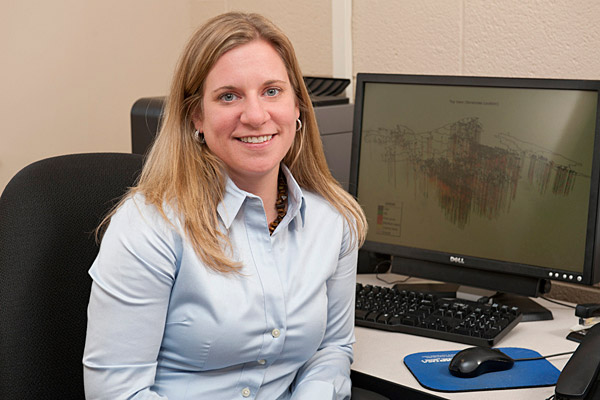 NSF Career Award
UD hydrogeologist Holly Michael receives prestigious grant for young faculty
10:12 a.m., Feb. 27, 2012--The most widespread contaminant of groundwater is not a microbe, industrial chemical or harmful element such as arsenic, according to University of Delaware geologist Holly Michael. It's seawater. 
"Salt is everywhere along the coast," Michael said. "With sea-level rise, groundwater salinization could become more of an issue."
National Medal of Science
President Barack Obama recently presented the National Medal of Science to University of Delaware alumnus Rakesh Jain.
Warren Award
Rosalind Johnson, assistant dean for student success in the NUCLEUS Program in UD's College of Arts and Sciences, was presented the John Warren Excellence in Leadership and Service Award during a May 26 ceremony.
The assistant professor of geological sciences in UD's College of Earth, Ocean, and Environment (CEOE) is studying how seawater along the coast mixes with freshwater that flows underground, and she recently received a highly competitive Faculty Early Career Development Award from the National Science Foundation (NSF) to further her work.
The prestigious awards are given to young faculty members who "exemplify the role of teacher-scholars through outstanding research, excellent education and the integration of education and research within the context of the mission of their organizations," the foundation's website states.
"Holly's research both locally and abroad is enhancing our understanding of the planet's valuable water resources," CEOE Dean Nancy Targett said. "Her sharp intellect and commitment to teaching make her an exceptional contributor to her field."
Over the next five years, Michael will use the $665,000 award to study large-scale movement of water between land and sea with the goal of eventually integrating these processes over the full range of spatial and temporal scales. At the small scale, researchers quantify that groundwater-seawater exchange in relation to waves and sediment ripples. At increasingly larger scales, the perspective expands to tides, seasons, glacial cycles and continental shelves. 
"It's important to understand all the scales because they nest within each other," Michael said.
She will use a mathematical approach to study coastal dynamics, comparing two very different places: Bangladesh and Hawaii. 
The geology of the Bengal Basin consists of interwoven layers of sands and clays, while the structure of the Hawaiian Islands is more continuous, with lava flows having formed structures that can extend out to the ocean. 
By contrasting and quantifying hydrogeological processes at both locales, Michael aims to better understand coastal water flow and salt transport, which can help shed light on the potential consequences of sea-level rise. 
The research has implications on water resource management, from protecting coastal ecosystems to informing where to install offshore wind farms. 
It also complements her other research interests, which include studying nutrients in groundwater discharge to Delaware's Indian River Bay, assessing the vulnerability of groundwater in the Bengal Basin to arsenic contamination and using statistics to make models of rock composition and distribution underground. Another project involves collaborating with economists to understand how people make decisions about how to use groundwater resources. 
"I'm really excited about this new NSF project because it really ties together the research that I am doing," Michael said. 
Her interest in research started as an undergraduate at the University of Notre Dame, where an inspiring hydrogeology professor sparked her interest in the field. She went on to earn a doctorate in hydrology from the Massachusetts Institute of Technology in 2005, studying the seasonal dynamics of coastal aquifers. She completed postdoctoral research with the United States Geological Survey and Stanford University before joining UD's faculty in 2008. 
Her research has been published in Nature and Science, among other journals, attracting media coverage from The New York Times and other international outlets.
Yet beyond research, Michael is dedicated to improving education in the geological sciences. Her NSF grant will enable her create daylong workshops for high school students at the DuPont Environmental Education Center in Wilmington. Students will collect and analyze data from wells in the marsh along the Christina River to learn about tide-driven water exchange. The activity will be adapted for a similar program in Hawaii.
At UD, Michael will also develop several new graduate courses and modify an existing geology course to include more quantitative skills. She finds that there is often a misconception that geology is not quantitative, when in fact a strong foundation in math and an understanding of other sciences is required. 
"Environmental science in general has to be interdisciplinary," Michael said. "I study the physics of groundwater flow, but one of the reasons that the physics is important is that it has so many implications for the chemistry, and the chemistry to the biology. And humans, of course, affect all of these processes. You can make links across everything."
Article by Teresa Messmore
Photo by Evan Krape