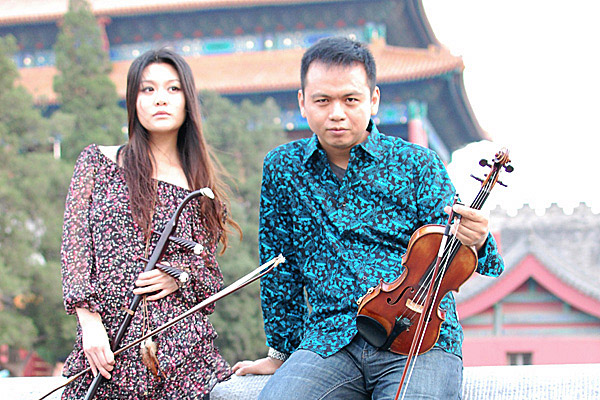 Feb. 17, 18: 6ixwire concert
Master Players Concert Series to feature '6ixwire United'
8:41 a.m., Feb. 7, 2012--The University of Delaware Master Players Concert Series will present "6ixwire United -- A Crossover Jazz Concert" at 8 p.m., Friday, Feb. 17, and Saturday, Feb. 18, in Mitchell Hall.
In the concert, UD's Xiang Gao will perform on the Western violin and Cathy Yang will perform on the erhu, or Chinese violin.
June 5: Blue Hen 5K
University of Delaware graduates planning to attend Alumni Weekend are encouraged to register for the annual Blue Hen 5K walk and run, which will be held Sunday morning, June 5.
June 6-9: Food and culture series
The 20th annual June Lecture Series at the Osher Lifelong Learning Institute at UD in Wilmington will be held June 6-9. Titled 'June a la Carte,' this year's program focuses on great political documents, feminism, world politics and a Newark cuisine sampler.
The musicians formed the crossover duet 6ixwire Project in 2009, and since then have enjoyed an international concert career performing classical, contemporary, jazz and crossover music.
During this concert, the two violinists from two worlds will collaborate with many established jazz musicians from New York City, New Orleans and other cities. 
Gao, an internationally renowned violinist who is UD professor of music and director of the Master Players Concert Series, called the concerts a "Valentine's Day gift for the local audience."
Master Players Concert Series tickets cost $25 for the general public; $20 for senior citizens, UD faculty, staff and alumni; and $10 for students with ID. Tickets are available at the REP box office in the Roselle Center for the Arts, telephone 302-831-2204.
The concerts are sponsored in part by UD's Institute for Global Studies and the Asian Studies Program.
For more information about UD's Master Players Concert Series, visit the website.
More Master Players concerts
Franz Schubert's Winterreise, a vocal and piano recital, will be held Thursday, March 22, at 8 p.m., in Gore Recital Hall. British pianist Roger Vignoles, internationally recognized as one of the world's finest collaborative artists, will perform. He will be joined by UD faculty baritone Robert Brandt in a performance of one of the greatest and most popular song cycles ever written, Franz Schubert's Winterreise (A Winter's Journey). The 24 songs of this cycle are settings of the evocative poetry of Schubert's contemporary, Wilhelm Müller. The cycle is a deeply moving and heartrending portrayal of suffering and loss. It traces the poet¹s journey as he walks through a winter landscape reflecting not only on his lost love, but also on larger questions of life¹s meaning. This concert is funded in part by a grant from the UD Faculty Senate Committee on Cultural Activities and Public Events (CAPE).
iMusic 5: Encounters will be held Friday, April 20, and Saturday, April 21, at 8 p.m., in Mitchell Hall. The theatrical multimedia concert, created and directed by Gao, will take the audience back to the last golden period of imperial China, the Qing Dynasty (1644-1912). Through music, visual presentations and drama, the audience will experience the impact of the encounters between cultures, as artistically interpreted by performing artists and experts drawn from multiple disciplines. 
The concert will feature the world premier of the Gao composition 6ixwire United, which was supported by a UD research grant. 
Also, the concert is the first of the Encounters Series, which is presented by the UD Interdisciplinary Humanities Research Center and the Master Players Concert Series and introduces historically significant music, languages, literatures, history, philosophy, religions and other art forms under one guise to promote cultural understanding and exchange. This program is made possible, in part, by a grant from the Delaware Division of the Arts, a state agency dedicated to nurturing and supporting the arts in Delaware, in partnership with the National Endowment for the Arts.