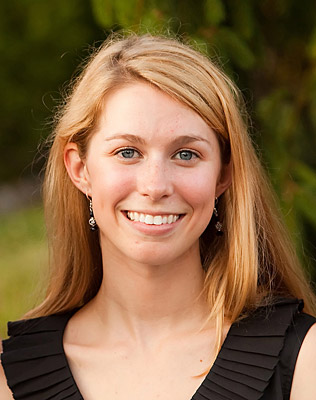 Research recognition
CEHD's Casey Irwin selected as Doctoral Student Scholar
10:11 a.m., Feb. 24, 2012--Casey Irwin, University of Delaware College of Education and Human Development doctoral student in special education, has received national recognition in her academic community. The Council for Exceptional Children Division of Research (CEC-DR) has named Irwin a CEC-DR Doctoral Scholar following a nationally competitive review process. 
As a CEC-DR Doctoral Scholar, Irwin will participate in seminars and online forums culminating in the national 2011-12 Doctoral Seminars in Special Education Research conference in Denver. Participants will explore the inquiry question, "What makes for excellence in special education research?"
National Medal of Science
President Barack Obama recently presented the National Medal of Science to University of Delaware alumnus Rakesh Jain.
Warren Award
Rosalind Johnson, assistant dean for student success in the NUCLEUS Program in UD's College of Arts and Sciences, was presented the John Warren Excellence in Leadership and Service Award during a May 26 ceremony.
Irwin said she is excited by this opportunity, stating, "I hope that my participation in the seminars and online discussions will allow me to gain a better understanding of how research is evaluated by the scholarly community. I look forward to developing relationships with other educational researchers that may serve as the basis for future professional association, and I am excited at the possibility of future collaborations among the scholars from different universities."
Irwin's academic accomplishments have focused on education and educational research of exceptional students. She received a master's degree in education from UD and is now in her third year of the University's special education Ph.D. program.  Her research has focused on supporting the needs of students with learning disabilities, specifically in mathematics.  
Working closely with Nancy Jordan, professor in the School of Education, Irwin has contributed to Jordan's study on developing number sense in children at risk for mathematical learning disabilities.  As her dissertation adviser, Jordan nominated Irwin for this honor. 
"Casey is a highly motivated student with strong potential for becoming a highly productive researcher in special education.  She has served as a graduate assistant on my NICHD grant on developing number sense in children at risk for mathematics learning disabilities and been involved in all facets of the project," Jordan said. "She has demonstrated an impressive commitment to serving children with special needs through her research and teaching."
After recently defending her dissertation proposal, "Relations among Executive Function, Number Sense, and Mathematics Achievement in Kindergartners," Irwin is officially a doctoral candidate.
"Casey has a great deal of knowledge to share with her peers," Jordan said. "She will take advantage of the tremendous opportunities the seminars provide to refine her own research expertise."
Article by Megan Blackert