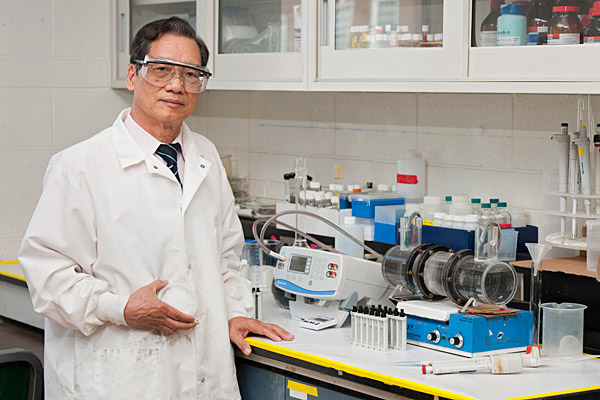 Environmental stewardship
Engineering professor to be presented AAEE's Gordon Maskew Fair Award
1:47 p.m., Feb. 27, 2012--Chin-Pao Huang, Donald C. Phillips Professor of Civil and Environmental Engineering at the University of Delaware, will receive the 2012 Gordon Maskew Fair Award from the American Academy of Environmental Engineers (AAEE) at the organization's awards luncheon to be held April 26 in Washington, D.C.
The award recognizes Huang's contributions to environmental engineering by his exemplary professional conduct, acknowledged achievements in engineering and valuable contributions to the world's environmental quality control.
National Medal of Science
President Barack Obama recently presented the National Medal of Science to University of Delaware alumnus Rakesh Jain.
Warren Award
Rosalind Johnson, assistant dean for student success in the NUCLEUS Program in UD's College of Arts and Sciences, was presented the John Warren Excellence in Leadership and Service Award during a May 26 ceremony.
Huang joined the UD faculty in 1974 and is recognized internationally as a leader in environmental physical chemistry. Throughout his years in academia, Huang's research has centered on industrial wastewater management, soil and groundwater remediation and aquatic chemistry. He is widely known for treatment approaches in separation technologies, chemical and catalytic concepts and physical methods for environmental protection.
In addition to academic research and teaching, Huang's career has included providing technical assistance to system operators with the production of training materials and the implementation of wastewater treatment systems. In recent years, he has sought to widen the landscape of environmental-related disciplines by devoting attention to nanomaterials and their potential role in pollution remediation.
Huang's research is supported by federal and state level agencies, as well as professional industry organizations and foundations. His work has been published in five books, over 200 refereed journal papers, 31 chapters and hundreds of reports. 
Huang earned his bachelor's degree in civil engineering from the National Taiwan University. He earned a master's degree in environmental engineering and a doctorate in aquatic chemistry, both from Harvard University. Since coming to UD, Huang has taught courses on the chemical aspects of environmental engineering, industrial ecology and hazardous waste management.
In 1999, Huang received his first Gordon Maskew Fair Award for Outstanding Service in Engineering Education from the Water Environment Federation. Other prestigious career awards include the Wesley H. Horner Award from the American Society of Civil Engineers and the Francis Alison Award, the highest faculty honor bestowed at UD.
About AAEE
Since 1955, AAEE has worked to improve, advance and elevate environmental engineering to ensure the public's health, safety and welfare and to promote a harmonious coexistence with nature. 
Article by Zac Anderson
Photo by Evan Krape