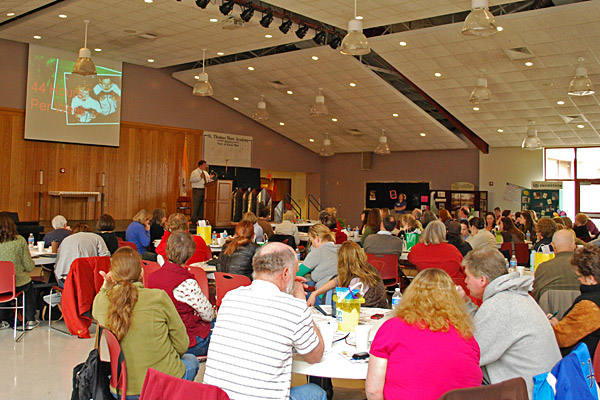 Feb. 25: Environmental education
Environmental writer Tom Horton to address educators at DAEE conference
8:16 a.m., Feb. 8, 2012--The Delaware Association for Environmental Education (DAEE) will hold its third conference, which is focused on "Turning the Tide toward Environmental Education," from 8 a.m.-4 p.m., Saturday, Feb. 25, at the Officer's Club in Cape Henlopen State Park in Lewes, Del.
The one-day conference will kick off with a keynote address by Tom Horton, an award-winning environmental educator and writer. Horton is well-known for writing about environmental issues for the Baltimore Sun and has penned several books on the Chesapeake Bay as well as articles for National Geographic, Rolling Stone, and many other magazines.
June 5: Blue Hen 5K
University of Delaware graduates planning to attend Alumni Weekend are encouraged to register for the annual Blue Hen 5K walk and run, which will be held Sunday morning, June 5.
June 6-9: Food and culture series
The 20th annual June Lecture Series at the Osher Lifelong Learning Institute at UD in Wilmington will be held June 6-9. Titled 'June a la Carte,' this year's program focuses on great political documents, feminism, world politics and a Newark cuisine sampler.
More than 100 formal and non-formal educators in the field of environmental education will come together for the conference, which will feature several strands of educational sessions and field trips, as well as exhibits and opportunities for networking and professional development. 
Field trips will include a tour of research facilities on UD's Hugh R. Sharp campus in Lewes, which will be led by Christopher Petrone, education specialist for the Delaware Sea Grant College Program (DESG), and Lisa Tossey, outreach specialist for DESG and the College of Earth, Ocean, and Environment. Petrone will also present an afternoon workshop on using sea breeze research data in the classroom.
"The sea breeze activity is a great demonstration of a scientist-educator collaboration," Petrone said. "Students use real data to explore the potential effects of excessive coastal development."
Dorothy Abbott, renewable resources extension agent with UD Cooperative Extension, will present a workshop session on outdoor woodland classrooms with Susan Yost of Delaware State University.
Additional conference activities include sessions on Green Eggs and Sand curriculum, Hooked on Fishing Not on Drugs programs, exploring habitats, discovering Monarch butterflies, becoming involved in citizen science efforts, and a field trip to the Marine Education, Research, and Rehabilitation (MERR) Institute.  
Advance registration for the conference is required. Registration is $35 and includes access to all sessions and field trips, breakfast refreshments, lunch, door prizes, exhibitor resources, and a one-year DAEE membership. 
About DAEE
DAEE was formed with the mission to promote environmental and outdoor education in the state and to facilitate positive community impacts on the conservation and sustainability of Delaware's resources.
Now an affiliate of the North American Association for Environmental Education (NAAEE), DAEE is supported by Delaware Sea Grant, UD's College of Earth, Ocean, and Environment, UD Cooperative Extension, the Partnership for the Delaware Estuary, Delaware Department of Natural Resources and Environmental Control, Delaware Nature Society, Delaware Department of Agriculture, New Castle Conservation District, and several other organizations.
For full conference schedule and more information on DAEE, visit the website.
Photo by Lisa Tossey