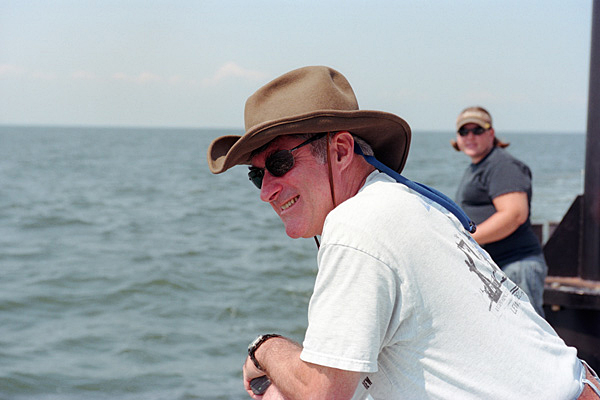 Luther honored
University of Delaware marine chemist named AAAS Fellow
10:20 a.m., Dec. 1, 2011--George Luther, Maxwell P. and Mildred H. Harrington Professor at the University of Delaware, has been named a fellow of the American Association for the Advancement of Science (AAAS).
Designation as a fellow of AAAS is an honor bestowed upon members by their peers. Luther and the other new fellows will be recognized for their contributions to science and technology during the AAAS Fellows Forum at the association's annual meeting in Vancouver, British Columbia, on Feb. 18, 2012.
National Medal of Science
President Barack Obama recently presented the National Medal of Science to University of Delaware alumnus Rakesh Jain.
Warren Award
Rosalind Johnson, assistant dean for student success in the NUCLEUS Program in UD's College of Arts and Sciences, was presented the John Warren Excellence in Leadership and Service Award during a May 26 ceremony.
Luther was selected for "distinguished service in applications of electrochemistry to elucidate biogeochemical processes in marine environments and towards defining element speciation in marine waters and sediments."
"AAAS has incredible impact on all of science as well as science policy," Luther says. "This is an outstanding honor, and it is not often that an environmental chemist doing marine work is selected."
Luther's research covers a wide range of areas, with an emphasis on work that interfaces chemistry with biology, as he indicates that chemistry drives biology.
His chemical speciation work has contributed to an understanding of how iron and other metals cycle in the ocean and how iron may be uptaken by microbes. He has also contributed to hydrothermal vent habitat characterization and a better understanding of the chemical reasons for organisms living in different ecological niches.
In 2003, Luther was leader of an international team funded by the National Science Foundation to learn more about some of the important chemical, physical and biological processes occurring within the suboxic zone of the Black Sea.
"George truly deserves this highest of honors from AAAS," says Nancy Targett, dean of UD's College of Earth, Ocean, and Environment. "He has not only conducted outstanding research with an international impact but also contributed to public education and outreach through public lectures on environmental issues, Coast Day presentations and his work with middle school and high school science teachers.
About George Luther
George Luther earned his doctorate in physical-inorganic chemistry at the University of Pittsburgh. A member of the University of Delaware faculty since 1986, he was named the Harrington Professor of Marine Studies in 2000. In addition to his professorship in the College of Earth, Ocean, and Environment, Luther holds joint appointments in the departments of Chemistry and Biochemistry, Civil and Environmental Engineering, and Plant and Soil Sciences. He also is an honorary professor at the School of Earth, Ocean and Planetary Sciences at Cardiff University in Wales.
In 2004, Luther received the Geochemical Society's Claire C. Patterson Award for outstanding contributions to environmental geochemistry and in 2006 he received UD's Francis Alison Award, the University's highest faculty honor.
His research covers a wide range of areas including redox reactions in the environment, trace element speciation in marine waters and sediments, biogeochemical processes in marine environments, application of molecular orbital theory to geochemical processes, in situ electrochemistry and microelectrode technology.
Luther is editor-in-chief of Aquatic Geochemistry, associate editor of the research journals Marine Chemistry and Geochemical Transactions and a member of the geochemical editorial board of John Wiley and Sons, a major scientific and technical publisher.  He is a member of the Deep-sea Submergence Committee (DeSSC) and of the Replacement Human occupied vehicle Oversight Committee (RHOC).
About AAAS
The American Association for the Advancement of Science is an international non-profit organization dedicated to advancing science around the world by serving as an educator, leader, spokesperson and professional association. In addition to organizing membership activities, AAAS publishes the journal Science, as well as many scientific newsletters, books and reports, and spearheads programs that raise the bar of understanding for science worldwide.
Founded in 1848, AAAS serves some 262 affiliated societies and academies of science, serving 10 million individuals. Science has the largest paid circulation of any peer-reviewed general science journal in the world, with an estimated total readership of one million. The non-profit AAAS is open to all and fulfills its mission to "advance science and serve society" through initiatives in science policy, international programs, science education, and more. 
Article by Diane Kukich
Photo by Bob Bowden