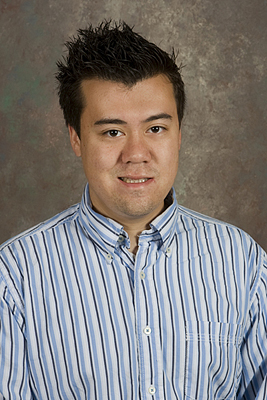 Composites student honored
Mechanical engineering doctoral candidate receives Air Products Fellowship
11:38 a.m., Dec. 12, 2011--John Gangloff, a third-year doctoral candidate in the Department of Mechanical Engineering at the University of Delaware, has been awarded the Air Products Graduate Fellowship for the 2011-2012 academic year. Gangloff is advised by Suresh Advani, George W. Laird Professor and associate director of UD's Center for Composite Materials.
Gangloff's research addresses processing of advanced composites. In particular, his work focuses on developing new control strategies to manipulate resin flow pressure, flow rate, and other variables to eliminate voids in liquid composite molding processes.
National Medal of Science
President Barack Obama recently presented the National Medal of Science to University of Delaware alumnus Rakesh Jain.
Warren Award
Rosalind Johnson, assistant dean for student success in the NUCLEUS Program in UD's College of Arts and Sciences, was presented the John Warren Excellence in Leadership and Service Award during a May 26 ceremony.
"If air is trapped within the composite and left to cure, the part will exhibit areas of porosity that can lead to stress concentrations under load and even premature failure," Gangloff says. 
His work involves both the development of numerical tools to understand micro-length-scale physics as well as lab experiments to verify those tools.
"I have found John to be a very creative and highly motivated student who enjoys doing research and spreads his enthusiasm about it to other students," says Advani. "He is always bubbling with new ideas to explore and develop process models to explain the behavior of bubbles and volatiles in resins so that one day we can make composite materials void-free at an affordable cost.
"He is an ideal candidate for the Air Products Fellowship, as in my mind he is a perfect graduate student who not only loves what he does but is able to excite young minds to follow in his footsteps and motivate others around him to work on interesting and important problems."
Gangloff plans to work in the composites industry after he completes his Ph.D. "I can see myself in five years working for a large company in order to learn how the organization, operation, and management work within that context," he says. "I think it's important to understand not only a technology but everything else including management and marketing that makes it possible for technology to be successfully embraced and implemented in the real world."
Although still a student, Gangloff is no stranger to the ways of industry.  Earlier this year, he and fellow doctoral candidate Cedric Jacob won a $10,000 cash prize in the Owens Corning Composite App Challenge, a global competition to find new applications for composite materials. They were recognized for their concept to develop an integrated structural composite fuel cell.
Gangloff credits CCM's environment with fostering his creativity and entrepreneurial spirit. "Through my work here, I've gained some valuable insights into the composites market and what it takes to be successful," he says. "I'm looking forward to my internship with Air Products so that I can ask more questions and learn more about what it takes to bring new ideas to market."
An active student leader in UD's chapter of the Society for Advanced Materials and Process Engineering (SAMPE), Gangloff has contributed to K-12 education through summer engineering camps and spearheaded the involvement of UD students in engineering competitions and industrial tours. 
About the Air Products Fellowship
The fellowship is supported through an annual gift to the University by the Air Products Foundation. The award includes an $18,000 stipend and an internship opportunity with the company.  
Initiated in 2008, it is open to doctoral students in mechanical and chemical engineering. Gangloff is the first mechanical engineering to be selected. Previous winners include Elizabeth D'Addio (2008-09), Maeva Tureau (2009-10), and Thomas Kelly (2010-11), all in chemical engineering.
About Air Products
Headquartered in Allentown, Pa., Air Products and Chemicals, Inc. is the second largest industrial gas producer in the U.S., providing gases and chemicals for industries and applications ranging from bioenergy and photovoltaics to aerospace and health care.
Article by Diane Kukich