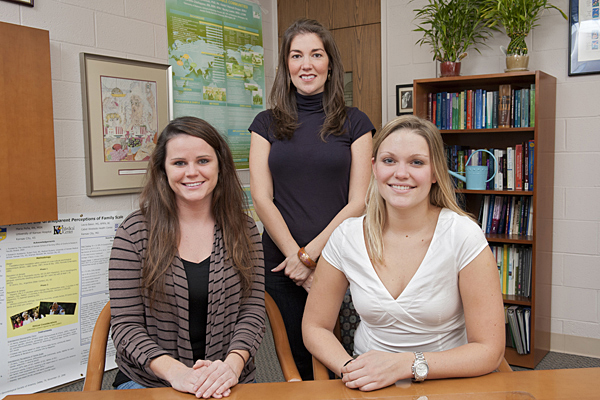 Three new Buxbaum Scholars named
Students demonstrate academic excellence and interest in older adults
11:19 a.m., Dec. 5, 2011--Kelly Leedy, Megan Hagen and Lindsay James have been named Jeanne K. Buxbaum Scholars in the School of Nursing at the University of Delaware for the 2011-12 academic year.
Buxbaum is the benefactor of the assistantships and scholarships, which are awarded to graduate and undergraduate nursing students who demonstrate academic excellence and a sincere interest in older adults or persons experiencing sensory deprivation.
National Medal of Science
President Barack Obama recently presented the National Medal of Science to University of Delaware alumnus Rakesh Jain.
Warren Award
Rosalind Johnson, assistant dean for student success in the NUCLEUS Program in UD's College of Arts and Sciences, was presented the John Warren Excellence in Leadership and Service Award during a May 26 ceremony.
Graduate Buxbaum Scholars are supported as research assistants. Undergraduate Buxbaum Scholars receive scholarships and also have the opportunity to work as research assistants with Prof. Veronica Rempusheski, Jeanne K. Buxbaum Chair of Nursing Science, to broaden their experience in aging and in proposed and funded research projects and activities.
Kelly Leedy, a graduate student originally from Florida, received her bachelor's degree from Bethune-Cookman University in Daytona Beach, Fla.  Leedy has experience working as a wound care specialist in a Medicare-funded skilled nursing facility and as an emergency department nurse. 
Since her teen years she has been part of an extended family of care providers for her great-grandmother, grandmothers and aunt who suffered from sensory, cognitive and neurological deficits. Through these experiences, Leedy became aware of the critical need for nurses with specialized knowledge and skills to meet the needs of older adults. 
Her goal is to become a family nurse practitioner working primarily with the geriatric population and their caregivers.  Her long-term goal is to teach and do research. 
"In a short period of time as a research assistant, Kelly's dedication and intellectual curiosity have emerged along with an attention to detail in research and a passion for the nursing profession and gerontology," Rempusheski said.
Megan Hagen, a senior baccalaureate nursing student from Ellicott City, Md., has gained an awareness of the importance of the relationship between a patient and his/her health care provider through her own health care challenges.  
Her earliest recollection of interacting with the elderly was participating as a Girl Scout visiting the residents of a nursing home at Halloween and after school. She noticed that there were several residents that did not have anyone visiting them. They looked forward to visitors – visits she too enjoyed.  
Hagen's professional goal is create a therapeutic, meaningful relationship with her patients, so that older adults feel understood, wanted, cared for and appreciated. 
"Megan's positive outlook is one that will influence how she communicates with persons in her care and how they feel about themselves – an extremely important characteristic in promoting quality of life and wellness in older adults," Rempusheski said.
Lindsay James is a senior baccalaureate nursing student from Seaford, Del.  James gained an appreciation for and interest in aging within her immediate and extended family. She voiced her great fortune to have had the love and interactions with her great-grandmother until her death at the age of 104.
As a lifeguard and instructor at a manor house, James helped elderly in and out of the pool for water aerobics, volleyball and polo, and gained valuable experiences about the positive aspects of aging and history brought to life through the stories of the residents. 
Her long-term goal is to earn a graduate degree and eventually become a professor to share her experiences with the next generation of nursing students.
"Lindsay's enthusiasm balanced with patience and acceptance of persons' assets and limitations are qualities that are desirable in the everyday care and support of older adults, whether acutely ill in hospital or in everyday community settings," said Rempusheski.
Leedy, Hagen and James join continuing Buxbaum Scholars Zoey Call, Lisa Marie Davidson, Brittany Drazich, Michelle Kennedy, Ashley Martinez and Marissa Merson.
Photo by Evan Krape