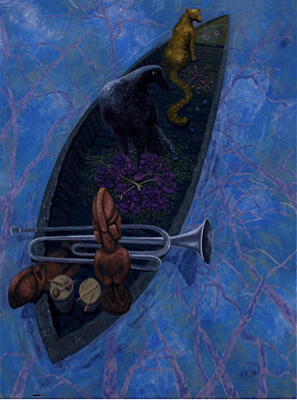 Sept. 7-Dec. 11: Morrison exhibit
UD's Mechanical Hall Gallery to host 'Keith Morrison: Middle Passage'
8:14 a.m., Aug. 5, 2011--Keith Morrison: Middle Passage, an exhibit that highlights a selection of oil paintings and watercolors from the last decade by the Jamaican-born artist, will be on view from Sept. 7 through Dec. 11 at the University of Delaware's Mechanical Hall Gallery.
Morrison's work engages local, global and Caribbean diasporic concerns. A recent suite of works, forcefully evocative yet reductive in form, give this exhibition its title: Middle Passage. 
June 5: Blue Hen 5K
University of Delaware graduates planning to attend Alumni Weekend are encouraged to register for the annual Blue Hen 5K walk and run, which will be held Sunday morning, June 5.
June 6-9: Food and culture series
The 20th annual June Lecture Series at the Osher Lifelong Learning Institute at UD in Wilmington will be held June 6-9. Titled 'June a la Carte,' this year's program focuses on great political documents, feminism, world politics and a Newark cuisine sampler.
At once a reference to the cross-Atlantic passage that brought enslaved Africans to the Americas in an elaborate trade route—Europe, Africa, the Americas—the significance of Middle Passage is redoubled in the context of Morrison's paintings that favor an iconography of cultural mélange. Settled and unsettled territories, unseen tragedy implied by trauma, verdant and enigmatic groves and waterways, permeate the work of the artist. 
Deeply mythical and often political, Morrison's exquisite paintings offer sensory delight and compositional shrewdness.  
About Keith Morrison
Morrison, professor of art at the Tyler School of Art at Temple University in Philadelphia, is an artist, curator, art critic and educator who received his bachelor's and master's degrees in fine arts from the School of the Art Institute of Chicago.
Morrison's art has been widely exhibited across the U.S., in Africa, Asia, Europe and South America. He represented Jamaica as an artist in the 2001 Venice Biennale, and served as U.S. critic to the 2008 Shanghai Biennale. 
His works are held in the collections of numerous public institutions including, the Cincinnati Art Museum, the Art Institute of Chicago, the Philadelphia Museum of Art, the Pennsylvania Academy of Fine Arts, the Corcoran Gallery of Art, the Smithsonian American Art Museum, the Museum of Modern Art of Monterrey, Mexico, and the National Gallery of Art, Jamaica. 
Morrison's critical writings and essays appear in numerous catalogues, periodicals, edited volumes and museum publications. He has held faculty and administrative appointments at a number of distinguished universities and art schools and curated multiple exhibitions, nationally and internationally.  
For more information, see the artist's website.
Morrison will rejoin the University Museums as guest curator for the spring 2012 exhibition, Magical Visions: Multiple Dimensions of African by African American Artists, featuring works by Terry Adkins, Sonya Clark, Melvin Edwards, Sam Gilliam, Barkley L. Hendricks, Kalup Linzy, Odili Odata, Karyn Olivier, Faith Ringold and William T. Williams.
Conversation Sept. 22
A conversation between Morrison and Colette Gaiter, associate professor in the Department of Art at the University of Delaware, will be held at 5 p.m., Thursday, Sept. 22, in the Mechanical Hall Gallery. A reception will follow. To RSVP, write to universitymuseums@udel.edu or call 302-831-8037.
All events are free and open to the public. For information and hours, see the University Museums website.