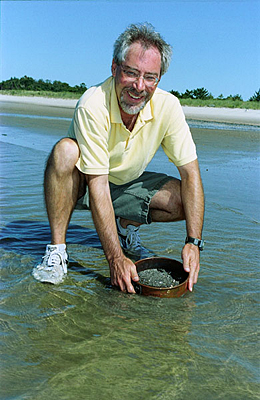 Aug. 18: Hidden in the Muck
Ocean Currents Lecture Series wraps up with talk by Delaware Bay expert
8:43 a.m., Aug. 4, 2011--The University of Delaware School of Marine Science and Policy's popular Ocean Currents Lecture Series concludes Thursday, Aug. 18, with a talk by Douglas Miller, UD associate professor of oceanography.
Ocean Currents lectures take place once a month from May through August. Talks begin at 7 p.m. in Room 104 of Cannon Laboratory at UD's Hugh R. Sharp Campus on Pilottown Road in Lewes. The events are free and open to the public, but reservations are required.
June 5: Blue Hen 5K
University of Delaware graduates planning to attend Alumni Weekend are encouraged to register for the annual Blue Hen 5K walk and run, which will be held Sunday morning, June 5.
June 6-9: Food and culture series
The 20th annual June Lecture Series at the Osher Lifelong Learning Institute at UD in Wilmington will be held June 6-9. Titled 'June a la Carte,' this year's program focuses on great political documents, feminism, world politics and a Newark cuisine sampler.
The August lecture, titled "Hidden in the Muck: Sixty Years of Research on the Bottom of Delaware Bay," will weave a story about decades of study that provided the foundation for today's understanding and management of the East Coast's second-largest estuary.
Miller is in the process of reviewing seven major surveys of marine life at the bottom of the bay conducted since the 1950s. The surveys represent more than 900 sampling stations and record hundreds of species. "It's wonderful to be able to look at these studies together, not only to gain a better understanding of how Delaware Bay research has developed, but also to see how environmental conditions have changed over what is essentially a lifetime," Miller said.
"It's quite challenging, too," he added. "There have been so many changes in how bottom samples are taken, how you determine sampling locations, and how data are recorded and stored. Even the species names applied to many of the bay's bottom dwellers have changed. So there's quite a bit of detective work involved here."
In addition to looking at the past, Miller's talk also will highlight some of his more recent, high-tech contributions to research in Delaware Bay, including work to map different habitats on the bay bottom using autonomous underwater vehicles and remotely operated vehicles. That work is being conducted with colleagues in UD's Department of Geological Sciences and supported by Delaware Sea Grant.
For reservations, which are required due to limited seating, contact Michelle Scorziello at mkscorzi@udel.edu or 302-645-4346. Light refreshments are served at the hourlong lecture.
Learn more about events held by the School of Marine Science and Policy, which is housed in UD's College of Earth, Ocean, and Environment.