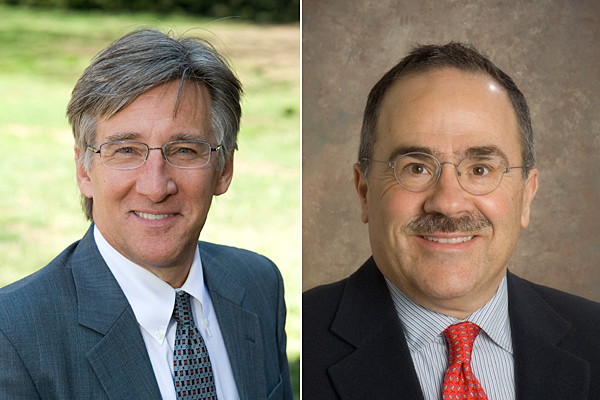 ACS Fellows
University's Klein, Papoutsakis selected ACS Fellows for 2011
10:21 a.m., Aug. 8, 2011--Michael T. Klein and Terry Papoutsakis, from the University of Delaware College of Engineering, have been selected as 2011 American Chemical Society (ACS) Fellows.
ACS is the world's largest scientific society. The fellows program, established in 2008, recognizes members "for outstanding achievements in and contributions to science, the profession and the society." More than 350 ACS members from academe, industry and government have been distinguished with this honor.
National Medal of Science
President Barack Obama recently presented the National Medal of Science to University of Delaware alumnus Rakesh Jain.
Warren Award
Rosalind Johnson, assistant dean for student success in the NUCLEUS Program in UD's College of Arts and Sciences, was presented the John Warren Excellence in Leadership and Service Award during a May 26 ceremony.
The 2011 Class of ACS Fellows includes 213 scientists. They will be inducted during the ACS National Meeting in Denver on Aug. 29.
"ACS is especially proud to honor these chemists during the 2011 International Year of Chemistry," ACS President Nancy B. Jackson said in a press release. "The work they are doing will improve all of our lives as they unleash the power of chemistry to solve global challenges like providing clean water, sufficient food, new energy sources and cures for disease. But that's not all. They're also organizing scientific conferences for their peers, doing outreach with scouts and schools and being mentors to the next generation of scientists."
Michael T. Klein, director of the UD Energy Institute, Dan Rich Chair in Energy and professor of chemical engineering, is an expert in chemical reaction engineering, with a special emphasis on the kinetics of complex systems.
His research work has facilitated development of the modeling revolution now used as the contemporary approach in complex reaction systems, including the upgrading and conversion of energy sources to transportation fuels.
Specifically, he developed data, modeling approaches and computational tools that, for the first time, allowed the use of the fundamentals of physical, organic, analytical and computational chemistry in the analysis and designation of complex reaction systems.
"I am grateful to have my work recognized in this way," Klein said of his nomination.
Affiliated with ACS since 1993, Klein has served as editor-in-chief of the ACS Energy & Fuels journal since 2002.
E. Terry Papoutsakis joined the UD faculty in 2007 as the Eugene du Pont Chair of Chemical Engineering. His research focuses on metabolic engineering and systems biology, particularly cell culture engineering, metabolic flux analysis, metabolic engineering of solventogenic clostridia and stem-cell engineering. 
Anne Robinson, UD chemical engineering professor and fellow Biochemical Technology (BIOT) Division ACS member, nominated Papoutsakis for the award, citing his pioneering research and service to the chemical, metabolic and biochemical engineering communities.
"The Papoutsakis group was one of the first to recognize the importance of and study the fundamental mechanisms, both fluid-mechanical and biological, underlying cell injury and death due to mixing and aeration in animal-cell bioreactors. Terry is widely recognized as a pioneer and an authority on this problem," Robinson wrote. 
In addition, she said, his stem cell research has "created new paradigms for integrating transport phenomena with cell biology and molecular biology," which "played an important role" in the development of technologies to generate blood cells for transfusion therapies. 
An active ACS member since 1982, Papoutsakis has served as an ACS Councilor; BIOT executive committee member; reviewer; and conference, symposium and award organizer. He is also co-editor of a book entitled Foundations of Biochemical Engineering: Kinetics and Thermodynamics in Biological Systems, which strongly influenced the growth of the biochemical engineering field as an engineering industry, He served as the editor-in-chief of Biotechnology & Bioengineering from 1990-96. 
More UD connections
In addition, several UD alumni and former faculty members also were inducted as ACS Fellows.
Alumni included Anita J. Brandolini (MA82, PhD83), professor of chemistry at Ramapo College of New Jersey; Arthur J. Coury (BS62), retired vice president for biomaterials research at Genzyme Corp.; and Yorke E. Rhodes (MS59), professor emeritus of chemistry at New York University.
Former UD faculty members included P. Andrew Evans, at UD from 1993-2000 and now professor of chemistry at the University of Liverpool, and Arnold L. Rheingold, at UD from 1984-2003 and now professor of chemistry at the University of California, San Diego.
Article by Taylor Martel