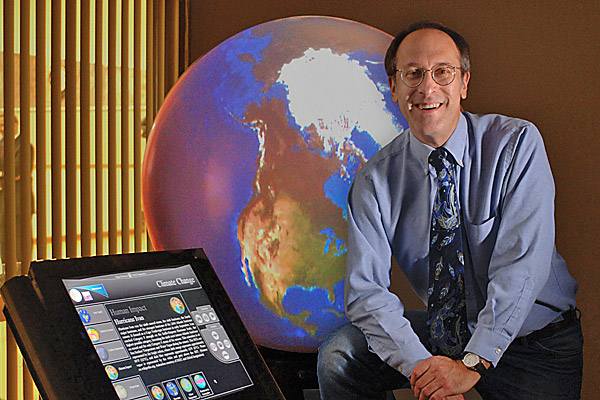 May 3: Mather Lecture
CCNY professor to address global water crisis in lecture at UD
1:15 p.m., April 17, 2012--One of the world's preeminent experts on water issues will discuss the global water crisis at the second annual John R. Mather Visiting Scholars Lecture on Thursday, May 3, at 6 p.m., at the Gore Recital Hall in the Roselle Center for the Arts.
Charles J. Vörösmarty, professor of civil engineering with the City College of New York, will share his perspectives in a presentation titled "Global Water Crisis: The Slippery Slope." Vörösmarty examines human impacts on freshwater systems and biodiversity, having reported in Nature in 2010 that nearly 80 percent of the world's population lives in areas with threatened water supplies.
June 5: Blue Hen 5K
University of Delaware graduates planning to attend Alumni Weekend are encouraged to register for the annual Blue Hen 5K walk and run, which will be held Sunday morning, June 5.
June 6-9: Food and culture series
The 20th annual June Lecture Series at the Osher Lifelong Learning Institute at UD in Wilmington will be held June 6-9. Titled 'June a la Carte,' this year's program focuses on great political documents, feminism, world politics and a Newark cuisine sampler.
"Dr. Vörösmarty brings a global understanding of what's happening with our water, having synthesized data from various sources," said Tracy DeLiberty, chair of the Department of Geography in the College of Earth, Ocean, and Environment. "His cross-disciplinary approach to the water cycle has broad appeal to anyone interested in the environment, engineering, marine science, geography, geology and related fields."
Vörösmarty's research focuses on the development of computer models and geospatial data sets to examine interactions among the water cycle, climate, biogeochemistry and human activities. His studies are built around local, regional, continental and global-scale modeling of water balance and changes in river systems, as well as the analysis of the impacts of large-scale water engineering on the terrestrial water cycle.
His professional accomplishments include serving as a distinguished scientist with NOAA-Cooperative Remote Sensing Science and Technology Center, director of the City University of New York's Environmental Crossroads Initiative and a member of the National Science Foundation's Arctic System Science Program Committee. Previously he was a research full professor at the Institute for the Study of Earth, Oceans and Space at the University of New Hampshire.
Vörösmarty is a founding member of the Global Water System Project, spearheading efforts to develop global indicators of water stress, apply databases of reservoir construction worldwide and analyze coastal zone risks associated with water diversion.
The John R. Mather Visiting Scholars Lecture honors the memory of John (Russ) Mather, UD professor of geography from 1963 to 2003 and Department of Geography chair from 1966 to 1989. Sandra F. Mather established the lectureship to honor her late husband and enable the department to host well-known scholars for the active exchange of ideas related to Mather's broad interests in climatology and geography.
The general public is invited to attend the free lecture and a reception immediately following, but reservations are required at www.udconnection.com/ceoe by April 26. The Roselle Center for the Arts is located at 110 Orchard Road in Newark. For more information, contact Colleen Leithren at leithren@udel.edu or 302-831-2294.