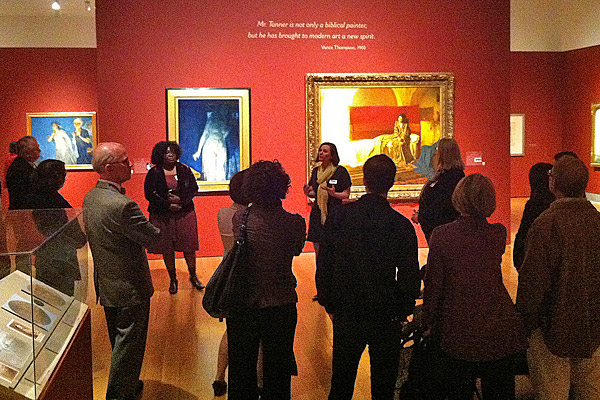 May 16: Tanner art colloquium
UD event provides opportunity to learn more about artist Henry Ossawa Tanner
12:16 p.m., April 18, 2012--The Pennsylvania Academy of the Fine Arts exhibition Henry Ossawa Tanner: Modern Spirit has closed but members of the University of Delaware community still have an opportunity to learn more about this remarkable artist.
UD will host a Tanner colloquium at 6 p.m., Wednesday, May 16, in 103 Gore Hall. The event has been organized by Camara Holloway, assistant professor of American art in UD's Department of Art History, and draws on the expertise of several alumni.
June 5: Blue Hen 5K
University of Delaware graduates planning to attend Alumni Weekend are encouraged to register for the annual Blue Hen 5K walk and run, which will be held Sunday morning, June 5.
June 6-9: Food and culture series
The 20th annual June Lecture Series at the Osher Lifelong Learning Institute at UD in Wilmington will be held June 6-9. Titled 'June a la Carte,' this year's program focuses on great political documents, feminism, world politics and a Newark cuisine sampler.
"During the course of a seminar that I have taught this semester, it became apparent that there remains a lot to be learned about Tanner," said Holloway. "Having learned from curator Anna Marley that she had more research that didn't make it into the Pennsylvania Academy of the Fine Arts exhibition, and knowing that Brian Baade was teaching on campus, it made sense to invite them to give presentations along with the students in my seminar and make a public event of it."
The Tanner exhibition has a significant connection with UD through both Marley and Baade. Marley, curator of historical American art at the Pennsylvania Academy of the Fine Arts, is a graduate of the art history program and curated the Tanner exhibition. Baade, a conservator of historic paintings, is teaching in the art conservation department and is a graduate of the program. He and conservator Amber Kerr-Allison, a UD alumna, conducted a study of Tanner paintings in the collection of the Smithsonian American Art Museum, where Kerr-Allison works, at the behest of Marley and the academy in anticipation of the exhibition.
"There was a terrific Scholars' Day at the academy where Brian and Amber shared some of their findings," said Holloway, "and it seemed like a great opportunity to share this information with a broader audience."
Holloway's seminar was a close examination of Tanner and scholarship on him that took advantage of the exhibition. Class sessions were held in the academy galleries until the show closed.
"When I learned three years ago that Anna was going to develop an exhibition on Tanner, I thought it would be a great opportunity to hold a seminar," said Holloway. 
About Henry Ossawa Tanner
Tanner (1859-1937) was born in Pittsburgh, Pa., to Benjamin and Sarah Tanner. The family relocated to Philadelphia where Tanner discovered his passion for art and became one of the first African Americans to enroll at the Pennsylvania Academy of the Fine Arts.
Like many of his teachers, who included Thomas Eakins, and his fellow students, Tanner then went abroad to study. 
After attending the Academie Julian in Paris, Tanner took up permanent residence in France during the 1890s and began to compete in the annual Paris salons. He found success and international renown that was unprecedented for an African American artist.
Tanner's reputation was founded on his paintings of religious subjects but for most Americans, he is known for an early genre painting The Banjo Lesson (1893) that features an elderly African American man teaching a boy to play the instrument.
"While this painting is of landmark importance to African American art history," said Holloway, "it has overshadowed the rest of Tanner's remarkable career. The exhibition and the seminar have provided the opportunity to reflect on other important facets of his work. The experience has been very rewarding for me and my students and I am so glad that we were able to make the seminar happen and share some of our insights with the public." 
Contributions from the College of Arts and Sciences and the art history department made the seminar possible, building on ties with the Pennsylvania Academy of the Fine Arts that have been formalized by the department's new curatorial studies doctoral program.
For more information, please visit the event listing on UDconnection.com.
Photo by Charles Isaacs