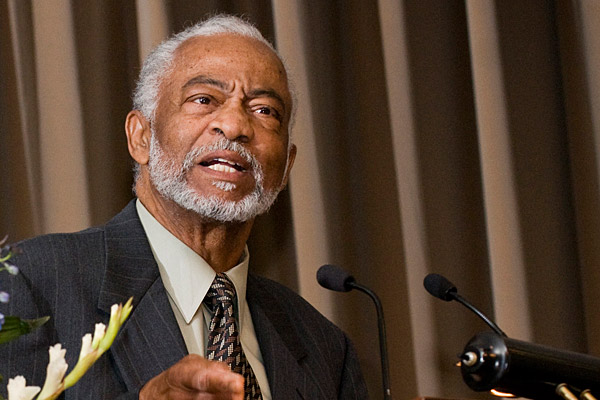 May 24: Lions and Legends
UD's James Newton to receive Urban League's Gilliam Award
3:20 p.m., April 12, 2012--James E. Newton, University of Delaware professor emeritus of Black American Studies, has been named winner of the James H. Gilliam Sr. Chairman's Award by the Metropolitan Wilmington Urban League.
The award recognizes pioneers for outstanding contributions and leadership in the fight for civil rights and a more equal and inclusive America.
National Medal of Science
President Barack Obama recently presented the National Medal of Science to University of Delaware alumnus Rakesh Jain.
Warren Award
Rosalind Johnson, assistant dean for student success in the NUCLEUS Program in UD's College of Arts and Sciences, was presented the John Warren Excellence in Leadership and Service Award during a May 26 ceremony.
Newton will be honored during the Metropolitan Wilmington Urban League's fifth annual Equal Opportunity Day Awards Celebration: Lions and Legends -- Voice of Equity event, to be held Thursday, May 24, at the Chase Center on the Riverfront.
Newton retired from his full-time faculty position in 2005 after a 33-year career at UD. Besides his teaching duties, Newton directed what is now the Department of Black American Studies, acted as chair of the Commission to Promote Racial and Cultural Diversity and served as a member of the U.S. Commission on Civil Rights Delaware State Advisory Committee. He also had a commitment to community service that included membership on the boards of the Walnut Street YMCA, Delaware State Arts Council, Delaware Art Museum, Tatnall School, YMCA of Delaware and Public Allies. 
Newton was the first African-American to earn a master's degree in fine arts from the University of North Carolina and received his doctorate from Illinois State University. He is the author of The Principles of Diversity: Handbook for a Diversity-Friendly America and of A Curriculum Evaluation on Student Knowledge of Afro-American Life and History. He also co-edited The Other Slaves: Mechanics, Artisans and Craftsmen and has won first-prize awards in sculpture and graphics in the National African American Art Exhibition in Atlanta.
The Lions and Legends Celebration is a time of reflection, honoring the legacy of the Rev. Dr. Martin Luther King Jr. by acknowledging those who have exemplified like qualities and achievements in Wilmington.
In addition to Newton, this year's honorees are: 
• Wilmington Mayor James M. Baker, Whitney M. Young Jr. Award recognizing outstanding contributions and leadership in business, industry, government or the community, presented to a leader in promoting social and economic equality, and inclusion for all people, especially people of color.
• William L. and Kim L. Allen, James H. Gilliam Jr. Humanitarian Award recognizing outstanding commitment and contribution to the community, presented to a Delawarean who made a significant contribution of both time and resources in support of the community.
• Lawrence (Moon) Roane, Littleton P. Mitchell Community Services Award presented to a Delawarean residing in New Castle County who has contributed a significant amount of time and efforts as a community volunteer, resulting in the improvement of community programs and activities; a role model and innovator who helps to sustain and motivate community residents.
• Andrew McKnight, Dr. Martin Luther King Jr. Next Generation Leadership Award presented to a Delawarean between the ages of 21-45 who has exerted sustainable leadership and shown outstanding promise for continuing service and leadership in Delaware.
For additional information or to acquire tickets, contact the Metropolitan Wilmington Urban League at 302-622-4300.