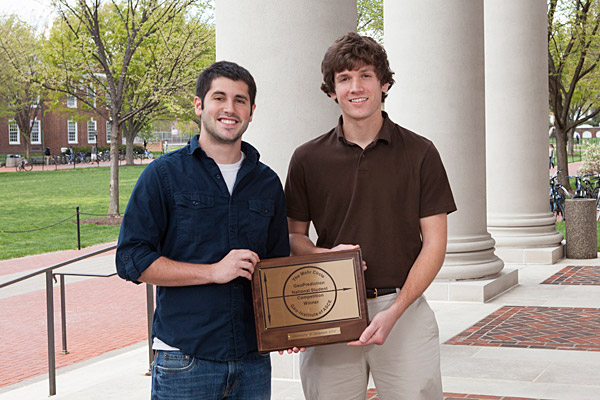 The inner circle
Engineering students win GeoPrediction competition, Mohr's Circle award
11:53 a.m., April 23, 2012--While most individuals want to be a part of the "inner circle," University of Delaware civil engineering students James Bailey and Matthew Dove prefer to have a stake in "Mohr's Circle."
Bailey, a master's student, and Dove, a senior, recently won the prestigious Mohr's Circle Award for their geotechnical engineering expertise at the 2012 GeoChallenge GeoPrediction competition.
National Medal of Science
President Barack Obama recently presented the National Medal of Science to University of Delaware alumnus Rakesh Jain.
Warren Award
Rosalind Johnson, assistant dean for student success in the NUCLEUS Program in UD's College of Arts and Sciences, was presented the John Warren Excellence in Leadership and Service Award during a May 26 ceremony.
Geotechnical engineering is a branch of civil engineering that is focused on the behavior of earth materials. Geotechnical engineers typically provide guidance for the construction of any structure in or on the ground.
Sponsored annually by the American Society of Civil Engineers' (ASCE) Geo-Institute, the pair competed in the GeoPrediction, a student contest in which participants predict the behavior of a real-world geotechnical system. Competitors submit their results in a paper, which is judged during the annual GeoChallenge event.
Battling against 14 other teams, Bailey and Dove used software created by Dov Leshchinsky, a professor in the Department of Civil and Environmental Engineering (CEE), to analyze raw data and predict the subsurface soil settlement that would be caused by the construction of a highway soil embankment.
"In my research, I had never gone from lab data to a full settlement analysis; it was interesting to see the pieces come together as we worked," said Bailey. "I was shocked when we won, but it was reaffirming to finally know that I have selected the right major and field to pursue."
The name of their award pays tribute to a student's graphical method for representing stresses in soil. This method, which is called Mohr's circle, was developed by Christian Otto Mohr in 1882.
The 2012 GeoChallenge, which featured three distinct competitions – GeoWall, GeoPrediction and GeoPoster – drew approximately 300 students nationwide. The event was part of the 2012 Geo-Congress, an annual conference for geotechnical engineers and students that is organized by ASCE. 
Bailey, Dove and a dozen other UD civil and environmental engineering graduate and undergraduate students involved in the UD Geo-Institute attended the Oakland, Calif., event. UD teams competed in the GeoPrediction and GeoWall events; while other students presented conference papers and posters.
"Though challenging, the competition was fun," said Dove, a first-time participant. "Attending the GeoConference was a great experience, and it was refreshing to speak with field professionals who were genuinely interested in my educational and career goals." 
"This is a highly-competitive national student competition, and we are very proud that James and Matt were able to take home the coveted Mohr's Circle Award this year," said Christopher Meehan, assistant professor and the team's adviser.  "It is great to see so many of our students pursuing their passions both inside and outside of the classroom."  
Article by Janie Sikes
Photo by Ambre Alexander