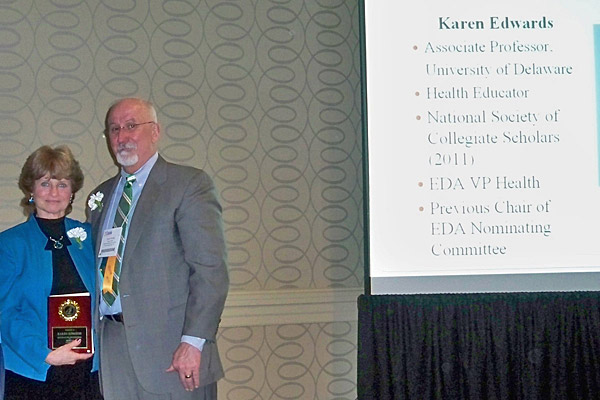 Health educator honored
Professor recognized for four decades of health and physical education
9:07 a.m., April 23, 2012--During her 40-year career in health and physical education, Karen Edwards has taught all ages from kindergarten to college, and she has coached middle and high school students in a half dozen sports.
Her dedication and four decades of service were recently rewarded when she was named Outstanding Health Professional by the Eastern District of the American Alliance for Health, Physical Education, Health, Recreation and Dance (AAHPERD). She received the award on March 15 at the AAHPERD National Convention and Expo in Boston.
National Medal of Science
President Barack Obama recently presented the National Medal of Science to University of Delaware alumnus Rakesh Jain.
Warren Award
Rosalind Johnson, assistant dean for student success in the NUCLEUS Program in UD's College of Arts and Sciences, was presented the John Warren Excellence in Leadership and Service Award during a May 26 ceremony.
An associate professor in the Department of Behavioral Health and Nutrition at the University of Delaware, Edwards earned her bachelor's degree in health and physical education at Indiana University in 1972. She then spent 10 years teaching in the Bloomington, Ind., public schools and the next 10 teaching health and fitness classes at Cecil College in Maryland.
"My current position in teacher education at the University of Delaware takes my professional career full circle," she says. "I'm now able to share my extensive teaching experience with the next generation of educators. "
Edwards has been an active AAHPERD member since 1973, including serving on various boards and committees. "As I move through my career, it has become increasingly important to me to mentor our students into professional leadership," she says. "I've challenged our students to present their work at state, district, and national conferences, and in the past three years I've been privileged to mentor three students that have won national and/or district honors."
Edwards earned a master's degree at Indiana University in 1977 and a doctor of education degree at Temple University in 1992. That same year, she joined the UD faculty. Her research interests include interactive teaching methodologies and alcohol and drug prevention strategies. She teaches courses in wellness, drug education, small group facilitation, and sexuality education. She also teaches health education methods in conjunction with local public schools.
Article by Diane Kukich